Concerns for the environment have reached critical point especially in the manufacturing industry. Business owners are being urged to find ways to cut down on energy costs and reduce their carbon footprint.
However, the logistical side of manufacturing often involves the use of warehouses and large industrial buildings. So how can owners continue to be productive while cutting energy costs and reducing their carbon footprint?
Here's 4 ways to dramatically cut down on warehouse costs while providing a greener working environment.
LED Lighting
Lighting can account for up to 80% of a warehouse or factory's energy costs. LED lighting uses up to 90% less energy than conventional industrial lighting. Tough and long lasting, LEDs reduce maintenance costs and provide a superior light for a safer workplace.
LEDs don't contain harmful pollutants such as mercury or lead and they are 100% recyclable.
Solar Panels
Solar panels produce electricity from free sunlight. The government's 'feed in tariff' also means that business owners will be paid for the energy they produce. Warehouse owners with a limited budget can rent their roofs to companies who'll install solar panels for free then pay a flat fee for the energy which they can earn back through the FIT, so there's no need for upfront investment by the warehouse owner.
Evaporative Cooling
Evaporative cooling systems are one of the most efficient ways of cooling warehouses and large industrial buildings. Eco friendly units use fresh air rather than CFCs and refrigerants used by conventional air conditioning units. They are also cheaper to run than conventional air conditioners and are ideal for open bay warehouses and areas where doors are constantly being opened and closed.
Flooring
Conventional warehouse flooring scuffs and wears down quickly. Once replaced, the older floor is disposed of at landfill sites where they contaminate soil, water and release toxins into the atmosphere when degrading.
Ecotile flooring is 100% recyclable; as an environmentally responsible company we will happily collect any old tiles or off-cuts free of charge and ensure they are recycled and not left to waste away.
The amount of VOC (Volatile Organic Compounds) content in an Ecotile is also significantly lower than what you will find in conventional flooring.


Ecotile is far more hard wearing and durable than conventional flooring so maintenance costs are also reduced.
Once installed, our products will help reduce dust and air pollution and keep the warmth in too. They are non-slip and reduce worker fatigue so they also help businesses comply with HSE regulations in the workplace. They are quick and easy to install, so there's less disruption in the workplace and productivity levels aren't adversely affected during installation.
For enquiries into our industrial flooring supply and installation services, contact Ecotile Flooring today, or visit us online for more information.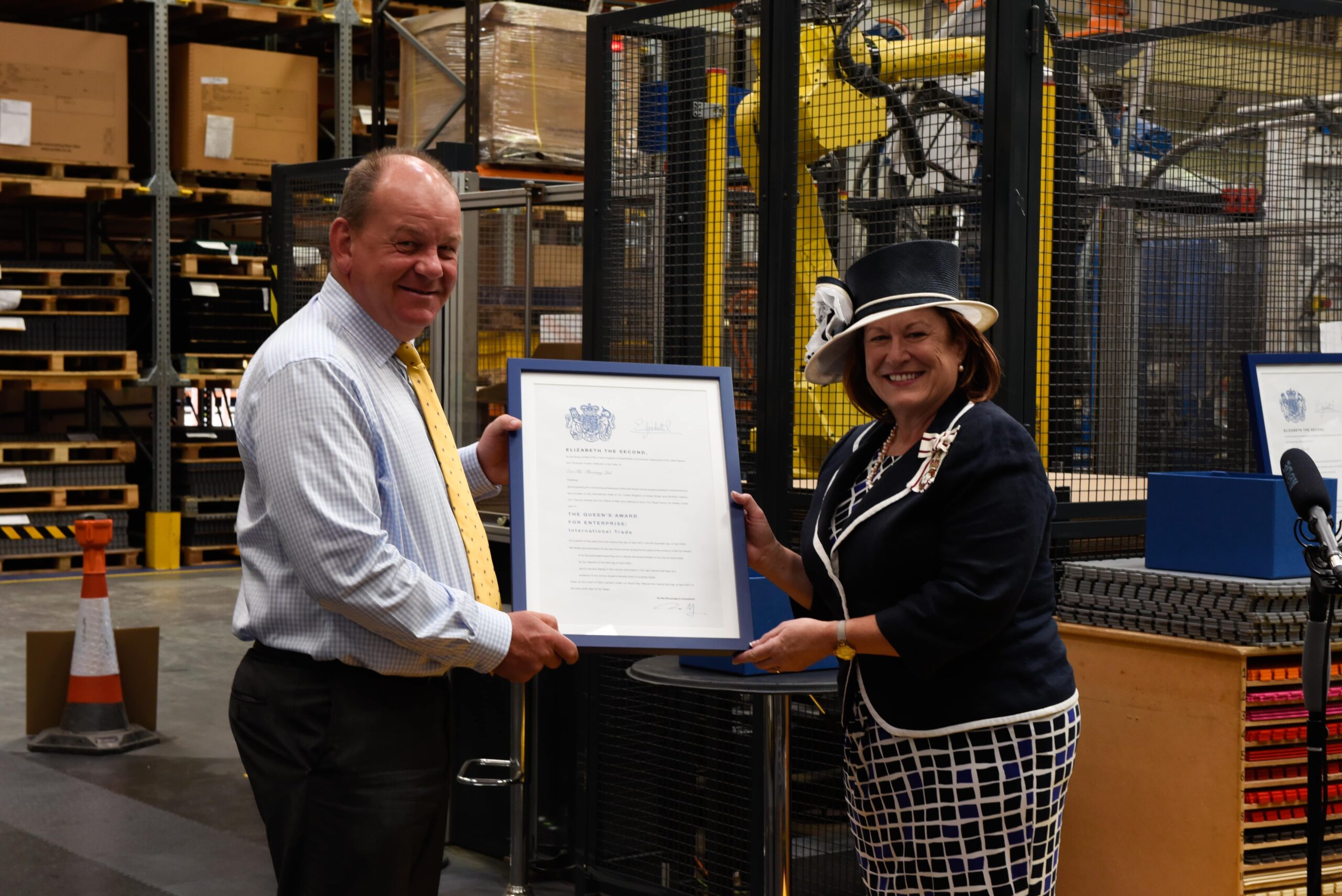 CEO and founder James Gedye has established Ecotile as the leading provider of interlocking floor tiles to the UK and around the world. Founded in 1996 from his bedroom turned office, James has built Ecotile into a multi-million-pound business, with sustainability still at the heart of his vision.
Based in Luton, Bedfordshire, Ecotile remains a privately owned UK manufacturing company, precision engineering all products in a purpose-built ISO accredited factory.
Leading the company to 2 prestigious Queens Awards in 2017 for Enterprise for Innovation and International Trade, these accolades underline James' desire to create the highest quality products and fly the flag for British manufacturing. Working directly with leading businesses for over 25 years, James' Ecotile brand has become synonymous with trust.
Used by 1000s of leading businesses, trusted by the MoD and specified by contractors, Ecotile floor tiles can be found across the world.
Connect or follow James on LinkedIn…