Installed Quickly Without Disruption or Downtime
Ecotile manufacture high performance static-dissipative floor tiles that protect microelectronics, static-sensitive devices and explosives from damage caused by static discharge.
Performing two core functions, our ESD interlocking floor tiles can be installed quickly and used as the cornerstone of your static-control program:
Provides a traceable path to ground (> 3.4 x 104Ω and ≤ 5.0 x 106Ω)
Prevents static generation (< 100 volts)
Ecotile ESD tiles are available in two different interlocking joint designs. Our X500/7 X-Joint Tile is the latest addition to our range, with our original E500/7 ESD tile featuring a T-Joint connection.  
Both versions are 7mm thick and available in dark grey. Please enquire for more information.
Please note that the joints of both tiles do not fit together with each other, so if you are extending an area of tiles, you'll need to install the same joint style.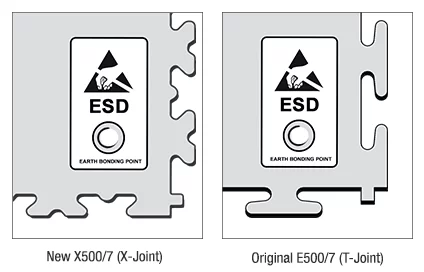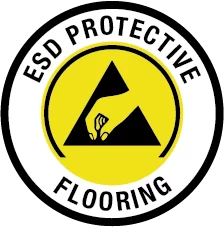 The First Line of Defence Against Static
Whether you are looking to replace a failed/worn floor or create a new ESD protected zone, Ecotile can be integrated into your static-controlled area without hassle.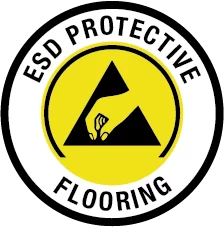 Ecotile have over 25 years of experience manufacturing, specifying, and installing ESD flooring for use in electronics manufacturing facilities, circuit assembly/handling areas, cleanrooms, laboratories, data centres and explosive ammunitions facilities.
"*" indicates required fields
How Ecotile Provides a Dependable Path to Ground
Stainless-steel microfibers are added throughout the inner structure of each PVC tile. These microfibres act like conductive veins that draw electric current from the surface of the floor through its entire thickness. 
No wear layer is required. Ecotile ESD tiles do not loose their ESD properties over time.
A tile with a grounding stud is installed every 60m2 and is connected to an earthing point, allowing static to complete its circuit and flow safely to ground.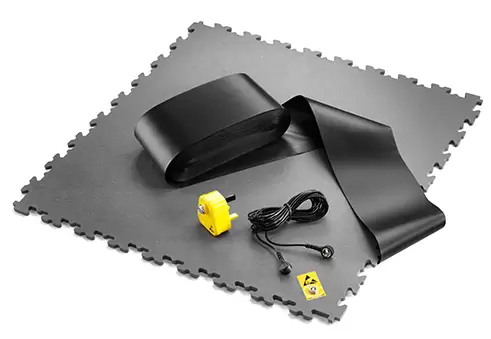 Ecotile ESD flooring is installed over a grid of conductive tape laid on the subfloor which unifies conductivity through installed tiles.
Post Installation Testing & Certification
It is critical that your floor meets industry specific standards and falls within the agreed electrical resistance range after it has been installed. 
Our tiles have been tested independently against EN 14041:2018 
Ecotile Flooring can test your new floor against the standard of your application and provide you with a written certification of compliance.
An ongoing test schedule can also be implemented. As per BS EN 61340 Guidebook recommendations, Ecotile can test your floor annually or as frequently as you require.
Full support and recommendations for after-care are provided, ensuring a suitable floor cleaning routine is implemented.
What to Know Before Specifying ESD Flooring
Any ESD floor can fail if it's specified for an incompatible space or does not meet the proper industry-specific ESD standards.
To avoid costly mistakes, ensure you familiarise yourself with the basics of ESD flooring.
ESD floors are part of a system and should be used with other ESD measures i.e. footwear
Standards vary by industry. Standards for electronics manufacturing and handling differ from those governing telecom, PSAPs, FAA flight towers, and other end-user spaces.
Helpful ESD Information:

Ecotile ESD Flooring has been tested to and meets the following international standards:
BS EN 61340-5-1 Edition 2 2016-05 – Electrostatics. Protection of electronic devices from electrostatic phenomena.
IEC 61340-5-1 Edition 2 2016-05 – Electrostatics. Protection of electronic devices from electrostatic phenomena
Human Body Model (HBM) Testing & EN / IEC 61000-4-2 Edition 2 2016-05 2008.
ANSI/ESD S20.20-2014 & ESD STM97.1-2015
BS EN 1081:2018+A1:2020 – Resilient floor coverings. Determination of the electrical resistance
MOD DSA03. OME Part2 (JSP482) & US MIL-STD-1686
Standard Colours:

Finish: Smooth
Material: PVC
Resistance: > 3.4 x 104Ω and ≤ 5.0 x 106Ω
Body Voltage: < 100 volts
Dimensions: 497mm x 497mm
Thickness: 7mm
Weight: 8.40kgs/m²
Slip Resistance: R10
Fire Performance: Bfl-S1
Chemical Resistance: Good EN 13529
Note: All figures quoted relate to laboratory testing in accordance with LVS EN IEC 61340-4-5:2018
"*" indicates required fields