Distribution & Supply Chain
Use Ecotile flooring to enhance storage and supply chain facilities. They quickly improve worn subfloors by providing a tough, durable surface, allowing teams to operate more efficiently and safely.
Ecotile Delivers. Where You Need it.
Multifunctional by design, Ecotile interlocking floor tiles will enhance your floors. Effective in warehouses, on mezzanines or office spaces. Designed to improve safety, increase employee comfort and drive operational performance. Perfect for installing across busy depots and hubs.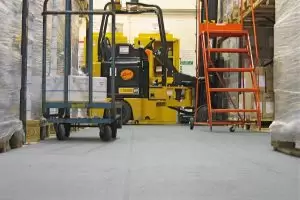 Ecotile E500/7mm Original floor tiles bring durability and versatility. They easily withstand repetitive use by forklifts, aisle pickers, pallet trucks, pump trucks and heavy foot traffic. These tiles are perfect for warehouse, storage and goods handling operations.
Where HGVs enter the picture, it's time for the big hitters. And Ecotile heavy-duty E500/10mm floor tiles aren't to be taken lightly. Articulated vehicles, aeroplanes or forklifts applying excessive load points when turning in loading bays? Ecotile 10mm tiles are more than up to the job.
Protect Your Floor, Budget, and Time.
Ecotile makes protecting subfloors cost-effective. Especially prudent in leased units, our floor tiles allow you to eliminate the cost of repairing damaged and worn concrete. They're more cost-effective than constantly re-painting or re-screeding. Installed in sections whilst you continue to operate. There's no drying or curing time either, so you can use them as soon as they are laid.
Use. Move. Repurpose.
Ecotile can grow as you do. They're simple to lift and relay if you expand into other premises or repurpose areas. You can change your layout as and when you need to. Even years later.
Use Ecotile floor tiles in:
Warehousing and storage areas
Goods processing, material handling areas
Loading bays
Product return areas
Security rooms & gatehouses
Canteens and rest areas
Corridors
Reception
Training rooms
Safety. From The Floor Up.
An R10 slip rating, Bfl-S1 Class 1 fire retardant rating is just the start.
Ecotile's modular solution makes it simple to mark work zones, bays, emergency exits and safe pedestrian walkways. And with our logo tiles, you can easily incorporate safety warning signs and branding into the floor.
Businesses use our interlocking floor tiles to prevent employees from slipping and tripping on worn, pitted concrete floors. Easing the fatigue on your team when standing for long periods, they offer a layer of protection and insulation from cold, bare concrete too.
Bottom line? Ecotile industrial floor tiles help depots operate more safely.
Transforming Your Facilities, Sustainably.
All Ecotile floor tiles are 100% recyclable. Another facet to help the continued drive to make logistics more sustainable. Our buy-back scheme ensures that our tiles don't go to landfill when they've served their useful life. Although Ecotile is built to last, so you won't need to worry about it for 15-20 years.
Get a FREE, no-obligation quote today