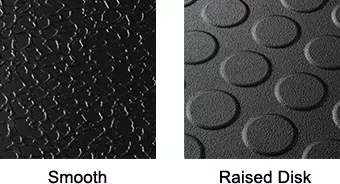 Our 100% Recycled Floor Tile
The R500 recycled tile is our unique approach to creating a sustainable, low-priced flooring solution for our customers. Made from 100% Recycled Ecotile.
With zero compromises on performance or appearance, our black recycled floor tile is 7mm thick and offers all the same great benefits as the original 7mm Ecotile.
Our Buy Back and Take Back schemes allow us to give our original virgin PVC floor tiles a second life and keep old, used Ecotiles far away from landfill. The same for any off-cuts too. We recycle them on-site in our ISO14001 accredited factory to create our R500 tile (closed-loop recycling).
Robust, long-lasting and built for industry, the R500 tile is solid PVC throughout its entire thickness and can be installed over existing damp or damaged sub-floors.
Easily withstands heavy loads from vehicles and machinery
Only made from recycled original Ecotiles (material traceability)
Fire retardant (Bfl-S1)
Impact and chemical resistant
Continue to operate while the installation takes place
R10 slip rating and anti-fatigue properties
Reduce noise, vibration, cold and concrete dust
Not All Recycled Floor Tiles are Equal
We take responsibility for how we source, use, and recycle the materials used to create our products. Right from the start, this means sourcing high-quality PVC responsibly and assuring full traceability in all our floor tiles.
Did you know that contaminants and subpar materials (often found in competitor recycled tiles) degrade safety and technical performance?
The R500 tile is only ever manufactured from recycled original Ecotiles, by us. So, we can guarantee that they'll retain their original quality and that you'll never find any nasty foreign materials inside that could compromise your floor.
Reducing Our Footprint. And Yours.
Reducing waste and increasing reuse and recycling is vital to conserving the world's resources. We always aim to eliminate landfill waste and ensure that our products are durable, long-lasting and reused for years to come.
All Ecotile products are 100% recyclable and can be installed without adhesives, so using our original or recycled tiles will help you and your business lower your footprint.
Learn more about Ecotile and the environment.
Finish: Smooth or Raised Disk
Material: PVC
Joint: Dovetail
Dimensions: 500mm x 500mm
Thickness: 7.6mm variations +/- 0.3mm
Weight: 9kg/m2
Hardness: 90-92 Shore A
Thermal Insulation Properties: R Value – 1.58
Sound Insulation Properties: Up to 46db
Fire Rating: Bfl-S1
Factories and Warehouses
Commercial Garages and Workshops
Retail Shops and Offices
Railway Stations and Airports
Schools and Colleges
Exhibitions and Point of Sale
Sports and Leisure Facilities
Prisons, Police and Fire Station
Suitable for trucks, HGVs and heavy-duty applications
Install without downtime
Withstands tight turning circles
Ideal for uneven or damp floors
Good chemical resistance
Expected lifespan of 20 + years
Exceptionally durable
Quick & simple to install
Noise reduction of up to 46db
No damp proof membrane, screed or adhesives required
Fire retardant – Class Bfl S1
Easy to maintain & clean
Excellent slip-resistance (R10)
Reduces worker fatigue
Warm – Insulates the floor from cold
"*" indicates required fields