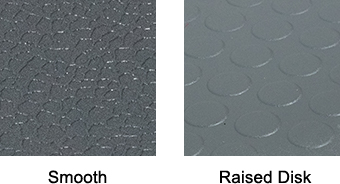 E500/7 Industrial Floor Tiles From Ecotile
The Ecotile 500/7 is the original loose lay interlocking floor tile. Each tile is approximately 7.6mm  thick and designed with an open dovetail joint – this allows the tiles to interlock easily. This popular E500/7 tile is ideal for the vast majority of applications, including heavy vehicle and forklift  traffic (as a guide up to 3.5 ton unladen weight). The Ecotile 500/7 is a durable floor covering that can withstand high point loading, impact and vibration.  If you are looking for a heavier duty tile, we manufacture interlocking tiles in a 10 mm thickness too.
Ecotile 500/7 is our most popular tile and is recommended for most industrial applications. Manufactured from hard wearing PVC, the tiles have a lifespan of over 20 years. We offer a 10 year guarantee and in the unlikely event that a tile is damaged it can be lifted and replaced in a matter of minutes.
Easy to Install
In most cases, the E500/7 can be installed without a damp proof membrane, screed or an adhesive (significantly reducing VOC emissions, installation time and cost)
The E500/7  tile is injection moulded using virgin PVC that has excellent wear characteristics, chemical resistance, long-term stability and stable electrical properties. This tile is not suitable for outdoor use, for outdoor flooring please click here.
Applications:
Designed to cope with heavy vehicle and fork lift truck traffic, Ecotile offers good thermal and acoustic insulation and excellent resistance to impact and vibration. To find out how Ecotile compares to other leading applications such as epoxy resin, please visit our industrial flooring page.
Factories & Warehouses
Railway Stations & Airports
Shops & Offices
Schools & Colleges
Garages & Workshops
Exhibitions & Point of Sale
Sports & Leisure Facilities
Prisons, Police & Fire Stations
Ecotile 500/7, the leading choice of industrial and commercial floor tile across Europe for over 25 years.
Finish: Smooth or Raised Disk
Material: PVC
Joint: Dovetail
Dimensions: 500mm x 500mm
Thickness: 7.6mm variations +/- 0.3mm
Weight: 9kg/m2
Hardness: 90-92 Shore A
ESD Version: Yes
Thermal Insulation Properties: R Value – 1.58 for 7mm tile
Sound Insulation Properties: Sound reduction of up to 46db
Suitable for trucks, HGVs and heavy-duty applications
Install without downtime
10 year warranty
Withstands tight turning circles
Ideal for uneven or damp floors
Good chemical resistance
Expected lifespan of 20 + years
Exceptionally durable
Quick & simple to install
Noise reduction of up to 46db
No damp proof membrane, screed or adhesives required
Fire retardant – Class Bfl S1
Easy to maintain & clean
Excellent slip-resistance (R10)
Reduces worker fatigue
Warm – Insulates the floor from cold
No additional toxic chemicals, 100% recyclable
Accreditations: