Here's a look at some resin flooring alternatives
The flooring requirements for most industrial and commercial buildings are the same: whether it's a factory, warehouse, shop or garage, the flooring needs to be durable, hygienic and easy to clean.
Epoxy resin has long been the most popular flooring choice for many businesses as it's considered tough, hard wearing and attractive. But if the underlying subfloor isn't properly prepared and looked after during the initial stages, the epoxy resin won't adhere well. Cracks and imperfections will start to surface and maintenance cost will soar. Preparation is time consuming and costly and as resin needs several days to dry, you've no choice but to shut up shop, losing valuable productivity time and money. It doesn't cope well with spillages either and can get very slippery when wet.
So what are the alternatives? And which is the best one?
Rubber tiles
A popular choice for commercial and high traffic areas, rubber is softer, more comfortable to walk on and comes in a range of colours and designs. Rubber flooring tends to wear down and become dull quite easily which makes it one of the less popular flooring options. The shine can be bought back by polishing the floor. However, when a polished rubber floor gets wet, it can be very slippery.
Rubber tiles are also prone to water ingress if spills aren't cleaned up immediately, causing the adhesive to loosen and the tiles to curl. In addition, rubber is difficult to clean. It picks up grease stains easily, and tends to discolour when cleaned with detergents.
Untreated Concrete
Although comparatively cheap, concrete is hard and cold underfoot. Concrete chips easily, forming cracks where germs, dirt and moisture can get under the surface. The porosity of concrete flooring causes it to behave like a sponge. If the area the concrete was poured into is naturally damp, then the concrete will essentially draw moisture from the ground. Once this happens, it can be very costly to restore or to cover over. That is why most businesses tend to cover concrete with a coating, paint or some form of tile.
It's not an environmentally friendly material either. The cement needed to make concrete uses a great deal of energy and carbon dioxide in its manufacturing process.
Stained, Sealed or Painted Concrete
Before painting concrete, the floor has to be thoroughly prepared. It has to be free of moisture, grease, holes and bumps. Once painted, a sealer should be applied to the surface to ensure no moisture can get in. This makes treating concrete floors a complicated and costly process that only a professional can do effectively. In the perfect environment, a painted concrete floor will last a few years before it needs to be recoated. However, in most environments cracks and peels start to occur within the first year of use. The cost of constantly repainting the floor adds up. In addition to this, floor paint causes a lot of damage to the environment. Follow this link to see why floor paint is bad for the environment.
The Solution
Ecotile is the perfect alternative to resin, epoxy and other flooring options:
Quick and easy to install meaning no disruption to the workplace
Can be installed over damp and uneven surfaces
Resistant to dust, improving air quality.
Warm and comfortable to walk on, reducing stress fatigue.
Anti-slip – greatly reduce the risk of slips and falls.
Hard wearing & long lasting – Ecotile is perfect for heavy vehicles and high traffic areas.
Installation doesn't require glues, screeds or latex so no toxic compounds are released into the atmosphere.
100% recyclable, Ecotile is the most eco-friendly flooring solutions there is.
For more information on Ecotile, the ideal resin flooring alternative, contact us today.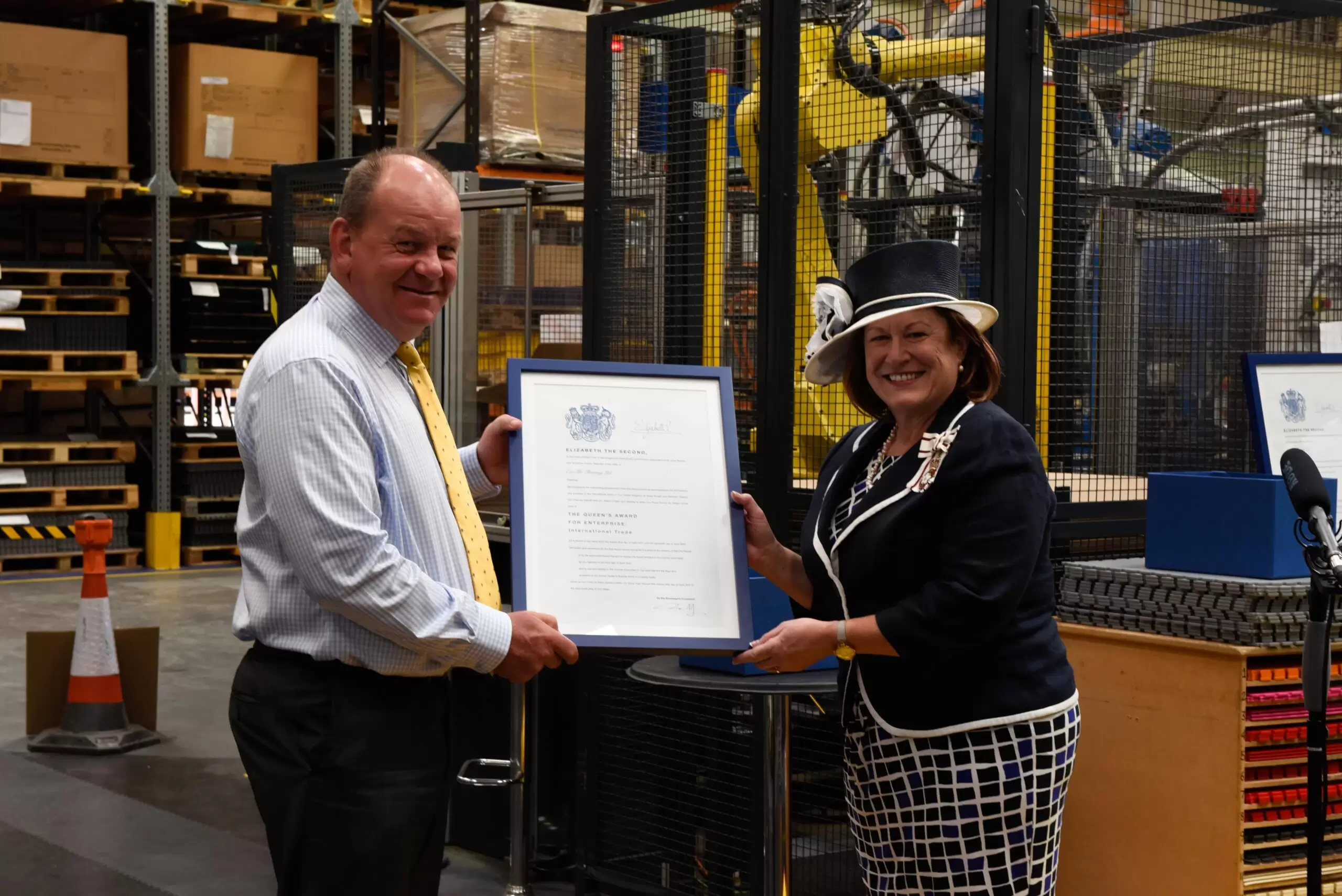 CEO and founder James Gedye has established Ecotile as the leading provider of interlocking floor tiles to the UK and around the world. Founded in 1996 from his bedroom turned office, James has built Ecotile into a multi-million-pound business, with sustainability still at the heart of his vision.
Based in Luton, Bedfordshire, Ecotile remains a privately owned UK manufacturing company, precision engineering all products in a purpose-built ISO accredited factory.
Leading the company to 2 prestigious Queens Awards in 2017 for Enterprise for Innovation and International Trade, these accolades underline James' desire to create the highest quality products and fly the flag for British manufacturing. Working directly with leading businesses for over 25 years, James' Ecotile brand has become synonymous with trust.
Used by 1000s of leading businesses, trusted by the MoD and specified by contractors, Ecotile floor tiles can be found across the world.
Connect or follow James on LinkedIn…