Another day, another job. This time around, the Ecotile Team have ventured to Parkdean Mullion Holiday Park in Cornwall to fit some new swimming pool flooring. We were contacted by Park Dean Resorts as they were having a pool refurbishment and their current flooring was not fit for purpose.
With 72 holiday parks around the UK, Parkdean Resorts offer country and seaside retreats, outdoor activities, camping sites, as well as top-class indoor facilities and entertainment.
The job at hand required giving Mullion Park's indoor swimming pools an entire refit, ensuring safe movement along the area for holiday goers.
The issue they had before was that the floor was very uneven and damaged but we were able to lay the tiles over the existing floor without any preparation.  Fortunately, Ecotile offer an alternative to our usual market-leading PVC interlocking floor tiles.
Our swimming pool flooring range has been engineered to provide solutions to problems of more environmentally challenging areas. Unlike our PVC Floor Tiles that can expand in very hot areas, our swimming pool flooring has been manufactured with UV stabilised polypropylene, meaning they will not be affected by direct sunlight and be able to withstand high temperatures.
Additionally, polypropylene provides comfortable surface with significant anti-slip properties (R10 rating), creating a walking space that's durable and safe. In the case of fitting for a swimming pool or changing area, you can rest assured that your customers can enjoy your time at your leisure centres without having to worry about slipping and falling on harder surfaces.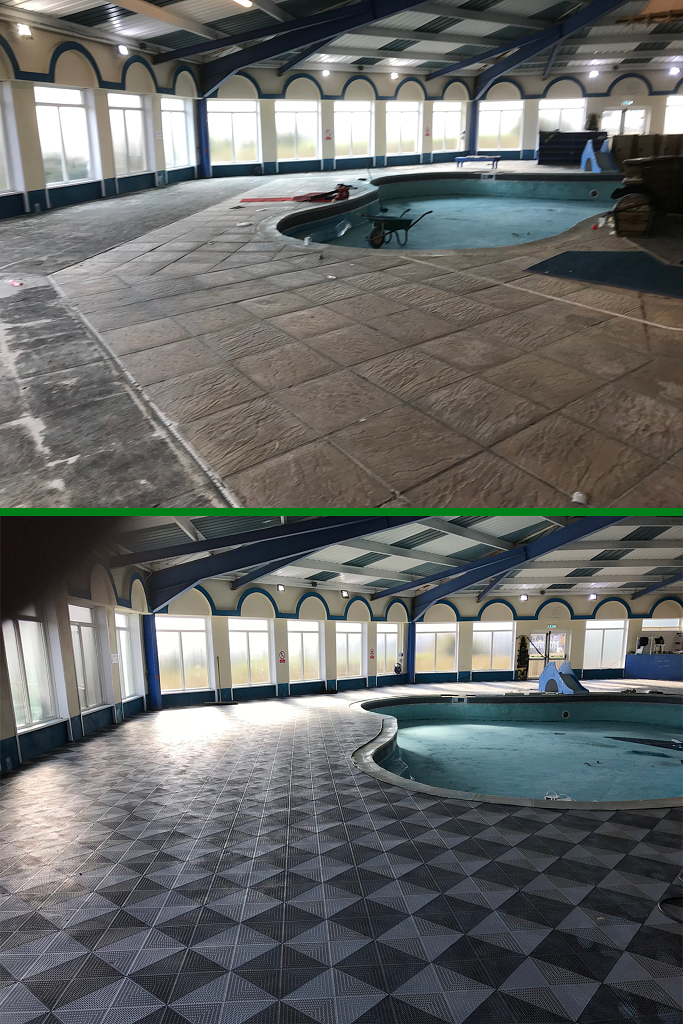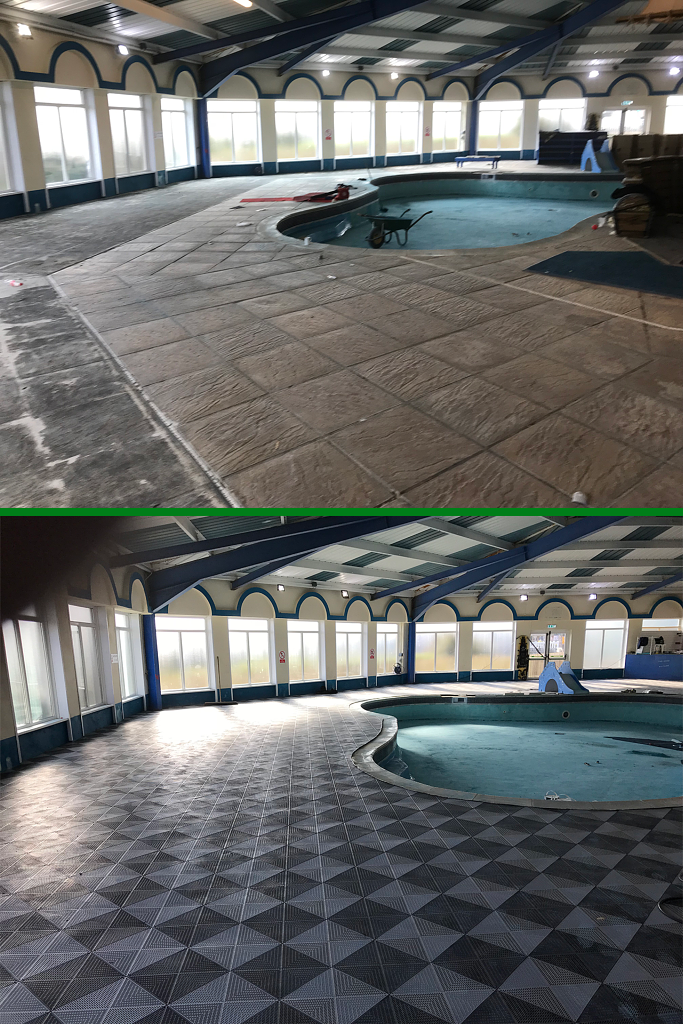 One of the key benefits of our swimming pool flooring tiles is that they have been designed with open grid water/air flow channels, which allow for run-off water to flow through to the bottom and to easily slide off or evaporate. This means that the likelihood of puddles, slipping accidents and the promotion of mold and mildew growth are greatly reduced.
Finally, our swimming pool flooring doesn't require any special adhesives or tools to utilize. The tiles slotting system means you can switch, join and replace tiles with ease. This is also beneficial if you want to leave the pool open but the area surrounding needs maintenance. All the while giving your sauna, swimming pool or general wet area an attractive, practical aesthetic.
We were able to supply lifestyle soft 600m2 which we were able to install in 3 days. We also were able to lay 200m of pool edging strip to finish off the pool install.
Craig Allen, Contracts Manager for Park Dean Resorts has given positive feedback saying they are extremely happy with the flooring.
Let's hope they want them over the other 71 parks!!