You might have noticed that we are quite proud of how we manufacture our industrial floor tiles. It is because we take our environmental credentials very seriously here, so we are always looking for new ways to reduce our impact on the environment.
With this in mind we would like to share with you the four different ways we produce Ecotiles. Because although having four different production techniques might not be the easiest way to manufacture a globally exported product, we prefer to go the extra mile to ensure that we always maximise our potential to be as green as possible.
Method 1 – 100% Recycled Industrial Floor Tile Jazz
Every single scrap of waste is reused in this process. This includes waste and off-cuts from our own installations, which we bag and take back to the factory with us; the unusable mouldings at the beginning of every colour change; the sprews that are cut off the back of each tile and anything that doesn't meet our stringent ISO 9001 quality criteria. We also have a scheme where we collect Ecotile floors that have reached the end of their life to make the next generation of tiles.
This is all ground up at our factory in Luton to make a multi-coloured collection of jazz. When we have enough we recycle this and master batch it with black or graphite colouring to make a 100% recycled tile.
We don't always recycle our old floor tiles though. Any Ecotile we reclaim that is in good enough condition to be sold as second hand is advertised on our website. They don't tend to hang around long though as they are such good value!
Method 2 – Pre-ground and coloured PVC
Method 1 doesn't generate a huge amount of material unfortunately so we have sourced a high quality supplier of pre-ground and coloured PVC (again we are limited to dark grey and black using this method).
Quality is always our paramount concern and we have applied the same level of scrutiny to this material as everything else we use. This ensures that at no point are we in breach of the environmental accreditations we have won including the U-Mark in Germany and the A+ rating for VOC emissions in France.
We even sell these tiles to certain companies in California who have the tightest environmental criteria in the world!
Method 3 – The 2K Flooring Range; recycling in colour
You might think at this point that we're already doing everything we can to be as green as possible but we are always looking to innovate and improve.
With this in mind we have formed a partnership with Billion and developed an entirely new manufacturing process. This allows us to use a core of 30% recycled material which is then enveloped by virgin PVC allowing us use less virgin PVC overall and to produce a tile using recycled material in colour.
As the 10mm thick tile is fast becoming more and more popular this innovation has resulted in a much larger proportion of recycled PVC being used than would have otherwise been possible – we refer to this new tile as our 2K range.
Method 4 – Virgin PVC
Finally it is still necessary to manufacture some of our Ecotile floor tiles using virgin PVC simply because it is the only way we can fulfill all our orders in the time our customers require. However we are working diligently towards the goal of one day manufacturing 100% of our range from recycled PVC.
Since 1994 we have been working very hard to keep as much PVC as possible out of landfill and we are very proud of our efforts to date. The fact that we have managed to do this whilst producing a truly useful and high quality product is a source of pride and satisfaction for everyone involved with the company.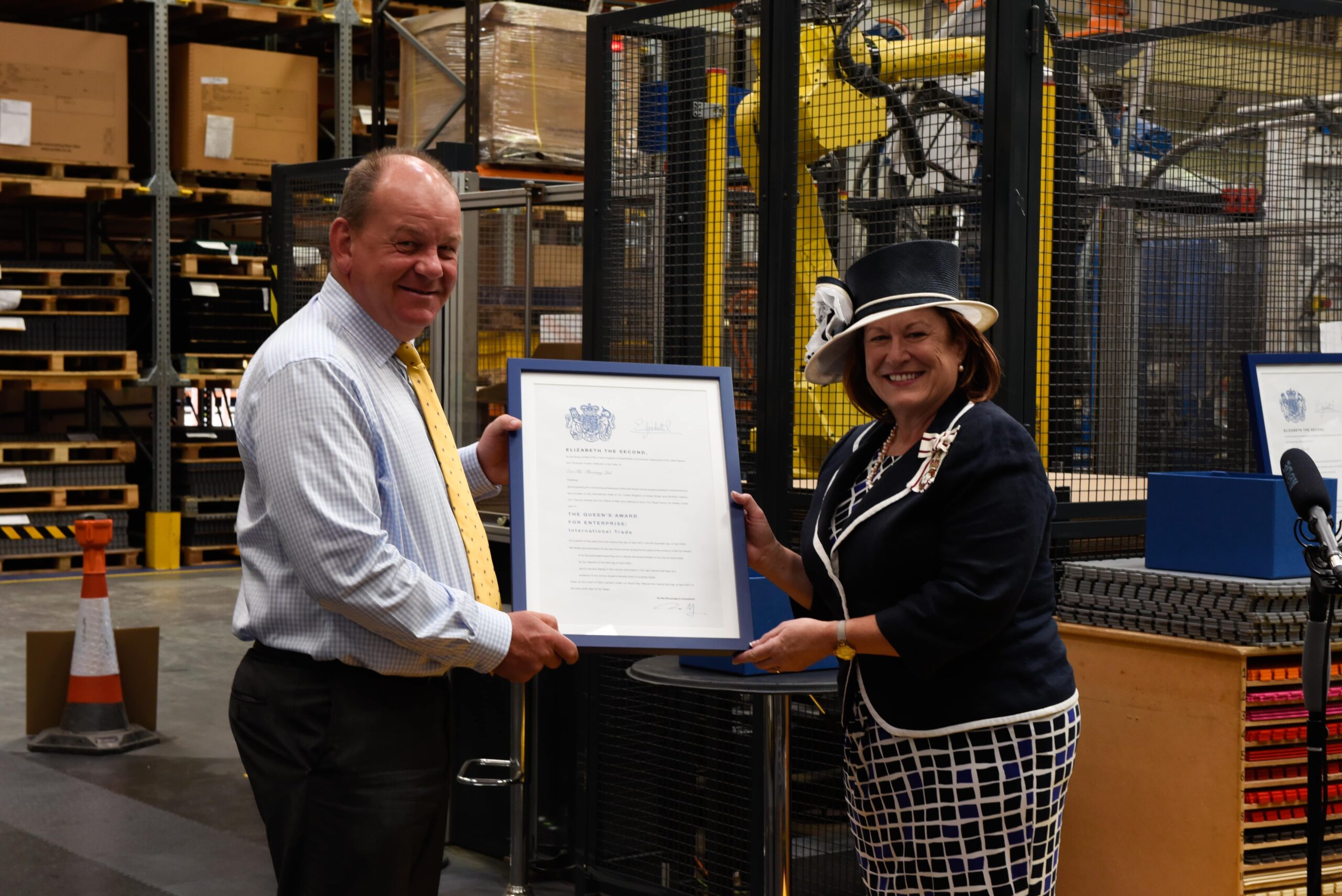 CEO and founder James Gedye has established Ecotile as the leading provider of interlocking floor tiles to the UK and around the world. Founded in 1996 from his bedroom turned office, James has built Ecotile into a multi-million-pound business, with sustainability still at the heart of his vision.
Based in Luton, Bedfordshire, Ecotile remains a privately owned UK manufacturing company, precision engineering all products in a purpose-built ISO accredited factory.
Leading the company to 2 prestigious Queens Awards in 2017 for Enterprise for Innovation and International Trade, these accolades underline James' desire to create the highest quality products and fly the flag for British manufacturing. Working directly with leading businesses for over 25 years, James' Ecotile brand has become synonymous with trust.
Used by 1000s of leading businesses, trusted by the MoD and specified by contractors, Ecotile floor tiles can be found across the world.
Connect or follow James on LinkedIn…