At Ecotile we make and manufacture high-performance industrial flooring that is widely considered to be amongst the best quality industrial flooring systems available on the market. This is recognised by our ISO9001 Certification and our numerous industry accreditations.
In a recent customer survey the exceptional quality, durability and wear characteristics of Ecotile were cited as the number one reason why customers choose Ecotile over traditional epoxy resin, concrete and floor paint alternatives.
But what do we mean when we say 'high-performance' flooring? What kind of daily usage can an Ecotile flooring system withstand that others struggle to deal with?
We've listed some of the machinery and applications that our floors can withstand on a continual daily basis without having a negative impact on the floors' projected life-cycle.
Let's take each one in turn.
Warehouses
The explosion in online shopping and the arrival of huge discount supermarkets have contributed towards a trend of ever expanding warehouse space here in the UK.
Here's where Ecotile flooring really earns its 'high-performance' reputation
HGV Trucks
These long-distance haulage vehicles can weigh upwards of 44 tonnes and Ecotile flooring will take their weight comfortably as they manoeuvre throughout the warehouse every day
Forklift Trucks
Weighing anything between 1400 kg and 45,000 kg these are the workhorses of any warehouse. Sharp turns, tight manoeuvring and heavy prolonged usage are all part of everyday life for our floors and they can withstand any amount of forklift truck activity.
Stillages
Whatever stillages your workforce uses, they will find them easier and more comfortable to operate than with most conventional flooring solutions. With an Ecotile floor in your warehouse there'll be less rattling, less noise and fewer complaints about soreness from the workforce
Staff Performance
Recent exposure in the press about working conditions in some warehouses focussed on the damage caused by staff having to walk over 12 hours a day on cold, damp concrete floors. This can result in foot and leg injuries and subsequent working days lost to illness. Ecotile flooring insulates, protects from damp and provides a more joint and ligament friendly alternative to those harsh concrete alternatives.
Retail
At the other end of the spectrum sits the retail market. Although expected to withstand far fewer demands that the warehouse environment, there are still a number of areas where Ecotile earns its 'high-performance' stripes.
Noise reduction
Superior insulation means less noise pollution and this creates a more effective retail environment, with a calming atmosphere and better sound quality throughout the space.
Design
One of the great features of Ecotile is our ability to produce almost any design to order. This means that you can create colour demarcations to give the space different zones. We can even add brand logos to the tiles to really make a given area stand out.
Safety
It stands to reason that a floor that can withstand continuous daily use from forklift trucks can handle a few thousand pairs of feet a day. However our tiles also boast excellent slip resistance characteristics, so any spillages need not lead to accidents quite so readily as others.
Factory and heavy industrial
Where Ecotile really excels is here in the factory and heavy industrial flooring sectors. We can offer all of the high-performance benefits listed in the warehouse and retail sections above, whilst offering a number of additional high quality benefits, such as:
ESD protection
This is a static dissipative or conductive flooring system designed for use in areas where components or individuals need to be protected from the risk of electrostatic damage. This includes electronic sub-assembly areas or facilities where combustible/explosive materials are handled.
Planning
With a 20 year life cycle and exceptional wear characteristics it is much easier to budget over the long term with your flooring as opposed to other, less reliable products on the market. Ecotile has been designed to be simple to install and maintain, can be moved and re-used, provide exceptional durability, and offer a lower life-cycle cost.
Peace of Mind
Thanks to our numerous accreditations we can provide you the peace of mind that all of our products and our installation service have been tested and re-tested to the very highest industry specifications.
Here is a full list of all of them:
Meets & exceeds requirements of BS EN 685:1996 (Resilient and Homogeneous and heterogeneous PVC floor coverings), BBA 96/3229/3 laminate floor coverings) and BS EN 649:1997 (Resilient Floor coverings), Hardness – Standard ISO 868 – ecotile 6mm, 7mm and 10mm – 89-92 Shore A / ecotile comfort 76 Shore.
Slip Resistance / Anti-Slip Qualities:
EN 14041:2004 – Pass – Average Reading in excess of 0.6 dynamic coefficient of friction.
DIN 51130:2004 – R10 Rating – Suitable for use in areas where there is an increased risk of slipping due to grease, oil water etc.
EN 13893:2002 – Dynamic Coef ficient of Friction = 0.75 avg.
Fire Performance does not support combustion and achieves Class 1 spread of flame when tested to BS 476: Part 7 / DIN
13501: 2004 – Bfl-S1
Abrasion Wear – Group T (<0.1mm /100 revs) (EN 660-2 / EN13845).
Mechanical Resistance – 17 N/mm2 to DIN 53516.
Determination of Length, Squar eness & Straightness – BS EN 428:1993 – <0.13% / 0.5mm max.
Thickness – BS EN 428 – 6.03 to 9.24mm +/- 0.15mm.
Determination of Residual Indentation BS EN 433:1994 – <0.1mm / Dimensional Stability - BS EN 434:1994 – Maximum change in dimension <0.1% / Compressive Strength - ISO 6721-1:1994, ISO 6721-2:1994, ISO 6721-6:1996: 520kg/cm²
Dimensional Stability – BS EN 434:1994 – Maximum change in dimension <0.1%.
Compressive Strength – ISO 6721-1:1994, ISO 6721-2:1994, ISO 6721-6:1996: 520kg/cm².

Chemical Resistance
Good resistance to most commonly used chemicals. ecotile offers good short to medium term resistance but as with most materials long term exposure could result in damage to the elastomer, colour and stability of the tile. In the event of accident we recommend the tiles are cleaned as soon as possible and if necessary lifted to remove any chemical that may have seeped underneath.
EN 13529 – Common acids oils & gas oil – No deterioration / Solvents – Not resistant to prolonged contact.
Colour Fastness / Resistance to natural light: EN 20105-B021 – 5 (no damage).
Electrical Properties
Ecotile Standard: surface resistivity: 1011 and 1014 Ω / ecotile ESD: surface resistivity: 3 x 106Ω and 2.2 x 104Ω
Resistance to ground : 5.7 x 105Ω and 2.9 x 104Ω / ecotile Anti-static: surface resistivity: 3 x 109Ω and 2.2 x 1011Ω.
Mechanical Resistance – Tests were carried out in accordance with the requirements of Annex A.1 of BS IEC 61340-5-1:2001.
Ecotile ESD fulfils the recommendations detailed in BS EN 61340 5-1:2001 for floors to be used for primary grounding.
ISO: 9001
ISO: 14001
CE Mark
AgBB Emission A+ Rating
REACH Compliant
U Mark

We manufacture all our products in the UK from our production facility in Luton, Bedfordshire. The easiest way to find out more about us is to take a look at our product range on our website and get in touch to speak to one of our industrial flooring experts.
Or you can call us right now on +44 (0)1582 273023

Image by: Erik Söderström
Used under the Creative Commons License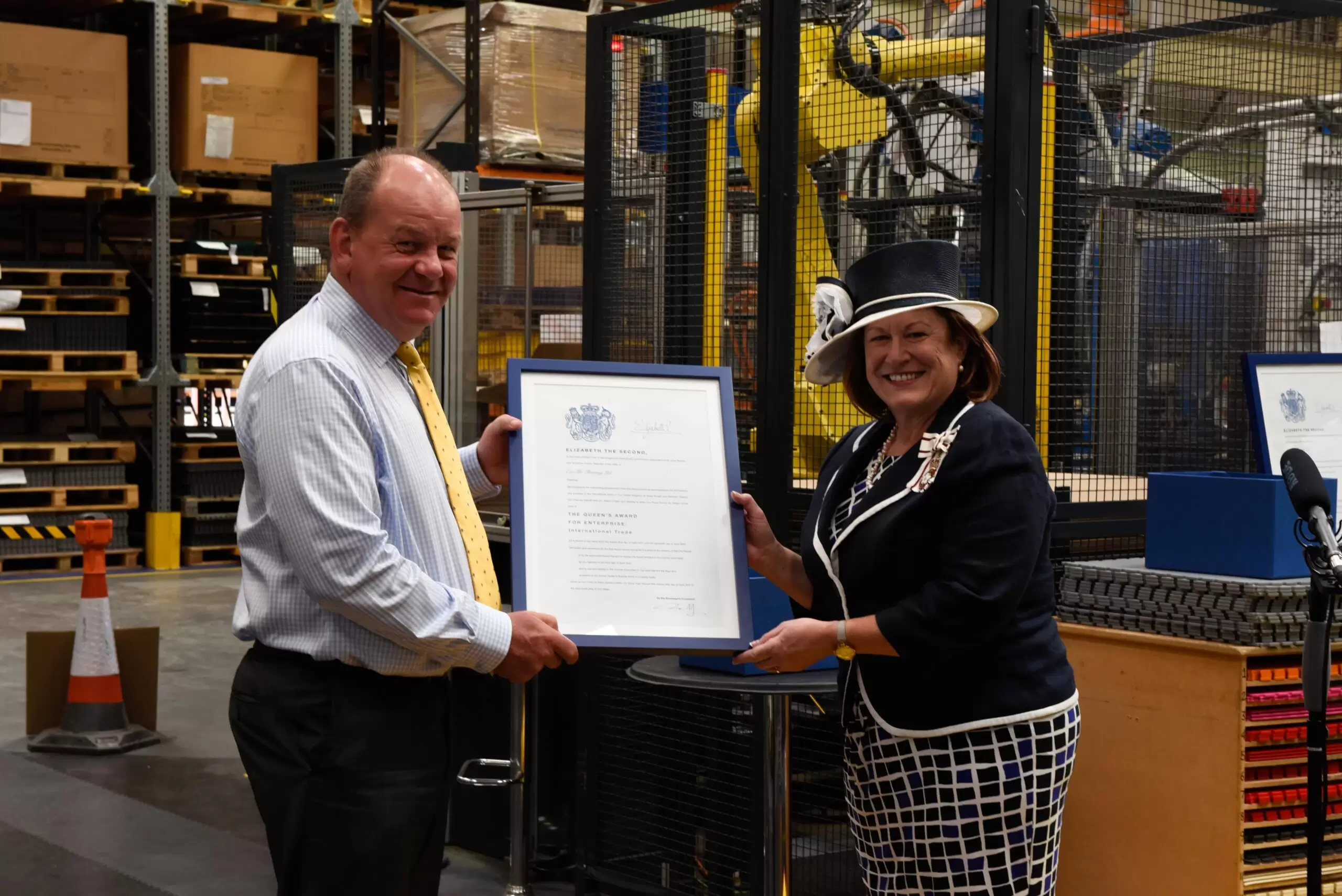 CEO and founder James Gedye has established Ecotile as the leading provider of interlocking floor tiles to the UK and around the world. Founded in 1996 from his bedroom turned office, James has built Ecotile into a multi-million-pound business, with sustainability still at the heart of his vision.
Based in Luton, Bedfordshire, Ecotile remains a privately owned UK manufacturing company, precision engineering all products in a purpose-built ISO accredited factory.
Leading the company to 2 prestigious Queens Awards in 2017 for Enterprise for Innovation and International Trade, these accolades underline James' desire to create the highest quality products and fly the flag for British manufacturing. Working directly with leading businesses for over 25 years, James' Ecotile brand has become synonymous with trust.
Used by 1000s of leading businesses, trusted by the MoD and specified by contractors, Ecotile floor tiles can be found across the world.
Connect or follow James on LinkedIn…