Through stringent routines and strict protocols such as ISO:9001 and 5S, good manufacturers always employ the most efficient methods to try to avoid factory downtime. Not only is it an inconvenience, it can prove to be detrimental to the overall running of the business and the bottom line.
Consequences of Factory Downtime
To state the obvious, if a company has to stop manufacturing product it is losing money because it has less to sell. A notable example is the automotive industry where shutting down a production line can cost £30,000 per shift in lost revenue.
There are also the less obvious costs to take into consideration. Most factories operate on economies of scale. The higher the number of units manufactured during a shift, the lower the costs are per unit because the labour, energy, sales, marketing, administration costs etc. are fixed. £10,000 of overheads divided between 10,000 units is £1 per unit. If the factory only makes 500 units your overheads are £2 each.
In addition to this, if a company can't fulfil customer orders by the agreed date due to factory downtime, they are giving their competition an opportunity to steal that customer's business. Further repercussions include the loss of reputation, as word soon spreads in an industry if a supplier is unreliable.
How Can Ecotile Prevent Factory Downtime?
Installing a new floor or carrying out repairs and maintenance to an existing floor is one of the most common causes of factory downtime. Flooring is often overlooked but if it isn't suitable for forklift traffic and you want to use the building as a warehouse, or if you need to get up and running quickly and you have to wait for an epoxy coating to cure, then you will incur avoidable and expensive costs.
Speed of Installation
Ecotile interlocking floor tiles can be loose laid in the majority of applications. Our tiles can be laid directly over the existing floor with minimal preparation as the interlocking design creates a strong and durable surface that copes easily with heavy traffic.
PVC is a lazy material that will follow the contours of the floor so uneven floors can be covered with only some smoothing compound required in the worst areas.
Minimal Disruption to Production
The vast majority of our customers are able to continue production and warehouse activities as normal while we install their new floor around them. Our Installation team are experts at working efficiently and in partnership with the client to devise a plan to minimise the impact our work has on production.
Future-proof Design
The fact that our interlocking tiles have been designed with the future in mind means that we will reduce your factory downtime now, as well as for years to come.
Flexibility
Ecotile interlocking tiles can be lifted and re-laid as and when required. If you experience a leak or spillage or need to change the layout of the floor to accommodate a new production line it can be achieved quickly and easily. Furthermore, if a tile is damaged it only takes a few minutes to lift and replace it rather than having to shut down the area as you would with paint or epoxy. If you need any advice on this subject give us a call on 01582 788 232 or email [email protected].
Low Maintenance
PVC is a tough, impermeable plastic that is very easy to clean by hand mopping or using a rotary scrubber dryer depending on the size of the flooring area. Frequent, light cleaning is the secret to a well-maintained floor, for more information consult our cleaning recommendations.
Durability
Our tiles have been built with durability in mind, so heavy vehicles and large machinery can be operated with confidence. They are more than capable of dealing with continuous heavy-duty usage so have a long lifespan, reducing the need for regular replacement and downtime like other flooring options.
No Glues or Adhesives
In the majority of applications, no glues are needed to install Ecotile tiles due to the interlocking design. This is one of reasons why we can easily work around you and also why they reduce downtime because you don't have to wait for adhesives to dry.
Unaffected by Damp or Chemicals in Substrate
The age of the manufacturing industry in the UK means that our factories have a wide range of substrates from timber to ceramic tiles and everything in between. Inevitably many of these substrates are contaminated with oils and chemicals which would be time-consuming and expensive to remove.
If the existing substrate is damp, uneven or contaminated with oil then preparing it to accept most floor coverings will be time consuming and expensive. Our tiles can be laid on top of the substrate and will not delaminate or lift as other floor coverings would. This is because they allow the floor to breathe so the moisture contamination can evaporate through the tile joints.
Choose Ecotile for Your Factory Flooring
Our interlocking tile system was expressly designed to solve the problem of factory downtime both at the installation and maintenance phases.
With a projected lifespan of 20 years we believe there is no better flooring to guarantee the smooth running of your factory and don't forget that when you need to replace your Ecotile floor, we will buy back the old tiles and give you a credit to use against your new floor.
Finally, if you are leasing the building, your investment in a new floor isn't wasted as you can take it with you if you move.
Contact us today to find out more information on how we can help you.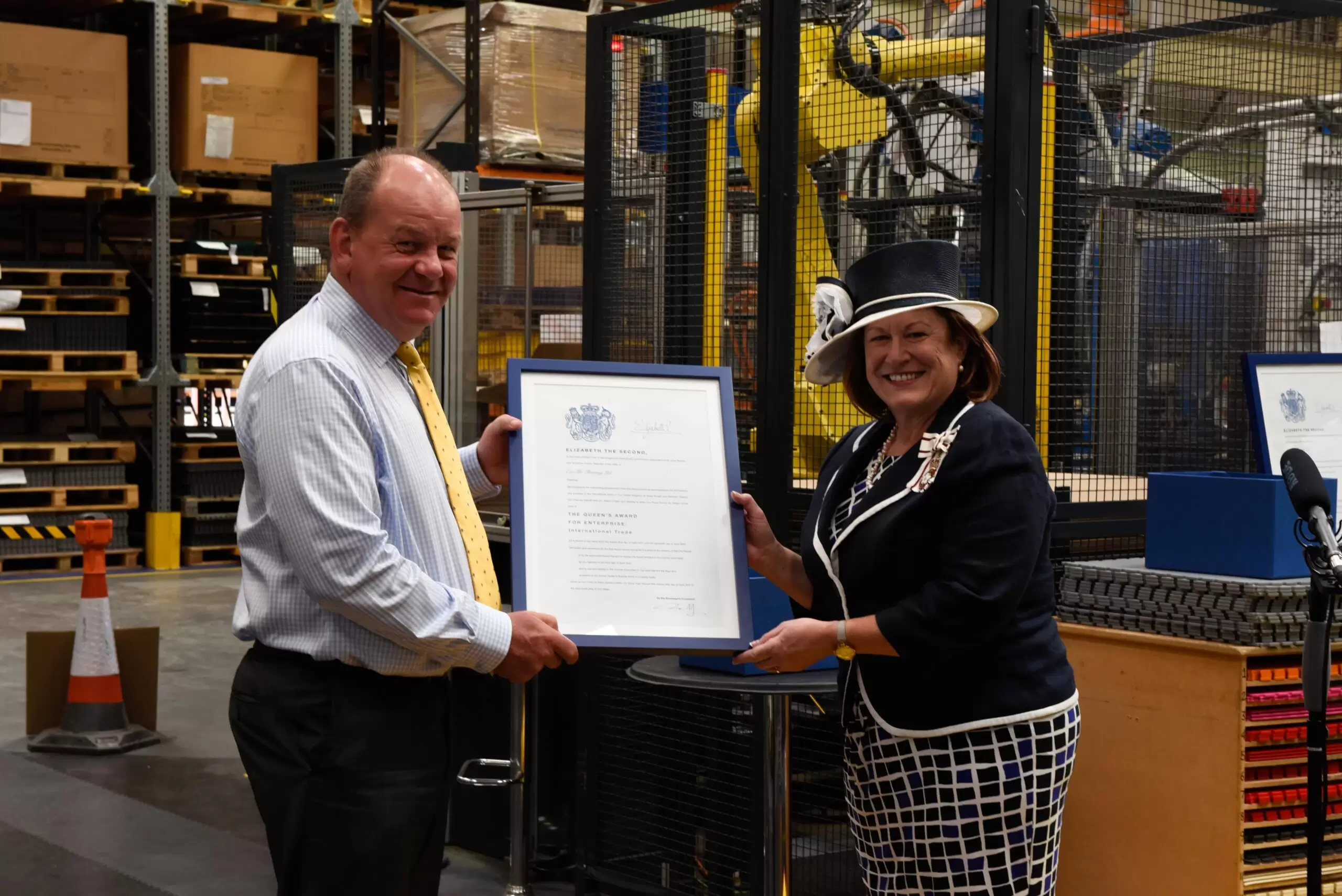 CEO and founder James Gedye has established Ecotile as the leading provider of interlocking floor tiles to the UK and around the world. Founded in 1996 from his bedroom turned office, James has built Ecotile into a multi-million-pound business, with sustainability still at the heart of his vision.
Based in Luton, Bedfordshire, Ecotile remains a privately owned UK manufacturing company, precision engineering all products in a purpose-built ISO accredited factory.
Leading the company to 2 prestigious Queens Awards in 2017 for Enterprise for Innovation and International Trade, these accolades underline James' desire to create the highest quality products and fly the flag for British manufacturing. Working directly with leading businesses for over 25 years, James' Ecotile brand has become synonymous with trust.
Used by 1000s of leading businesses, trusted by the MoD and specified by contractors, Ecotile floor tiles can be found across the world.
Connect or follow James on LinkedIn…