Flooring is one of those things everyone takes for granted until it goes wrong. This is especially true of your factory floor as there are so many stakeholders with different requirements.
• Does it need to be perfectly flat so the machines can be calibrated?
• Can it withstand heavy vehicle traffic such as forklift trucks?
• Is it sufficiently anti-slip to ensure the safety of pedestrians?
• Is it oil and chemical resistant?
• Is it easy to clean and maintain?
In this article we address the criteria you should think about when choosing factory flooring.
Efficiency of Factory Floor
If a manufacturing company is to be successful it has to be efficient in terms of utilising resources and economies of scale. But not many people consider that the factory floor can have an impact on how efficiently production runs. If the floor is uneven or damaged this may prevent forklift trucks and pallet trucks from moving raw material and finished goods around the factory smoothly and the movements of these vehicles will increase the damage in a vicious cycle. Eventually the damaged areas will need to be repaired which means they have to be shut down for a while. This will be extremely inconvenient and also costly if production usually runs 24/7 as is usually the case to maximise efficient manufacturing. This highlights some of the prime advantages of the interlocking tile system. Ecotile can be loose laid over damp, damaged and uneven floors with very little preparation. This means the tiles can be installed while production continues and in the long term if a tile is damaged it can be lifted and replaced in a matter of minutes.
Processes
What does your manufacturing process involve? Do you have a lot of heavy machinery and vehicle traffic or do you make light, non-bulky goods? Does the floor need to be hygienic or waterproof? Do you need to meet specific standards and create a particular type of environment, for example a clean room or an EPA if you are manufacturing products with electronic components. Industries such as defence, telecommunications, pharmaceuticals and food all have widely varying requirements when it comes to the floors in their factories and getting it wrong can result in faulty or contaminated goods and considerable loss of revenue and profit for the company as well as damaged reputation.
Health and Safety
The health and safety of workers is the top priority of any good manager and a factory floor has an important role to play. It should be flat and even so there are no trip hazards and provide an anti-slip surface even in wet and oily conditions if they exist on your production line. Clear and visible signs are another consideration and putting them on the floor is much more effective than on the wall where they often merge in to all the other information presented there. At Ecotile we make a range of safety signs that are water laser jet cut in to our tiles so they never wear away and are extremely visible to workers. Signs available include warnings about forklift traffic and entering areas where ear defenders or safety glasses are required as well as a sign indicating that ESD compliant shoes and clothing need to be worn. It is also helpful to use different colours and surface textures in the floor to segregate pedestrians from areas where forklift trucks are operating. The Ecotile interlocking tile system makes it very easy to achieve this and if the layout of your factory changes you can lift the tiles and change them round to suit your new requirements. For independent advice and resources about health and safety visit the HSE (Health & Safety Executive) for more information.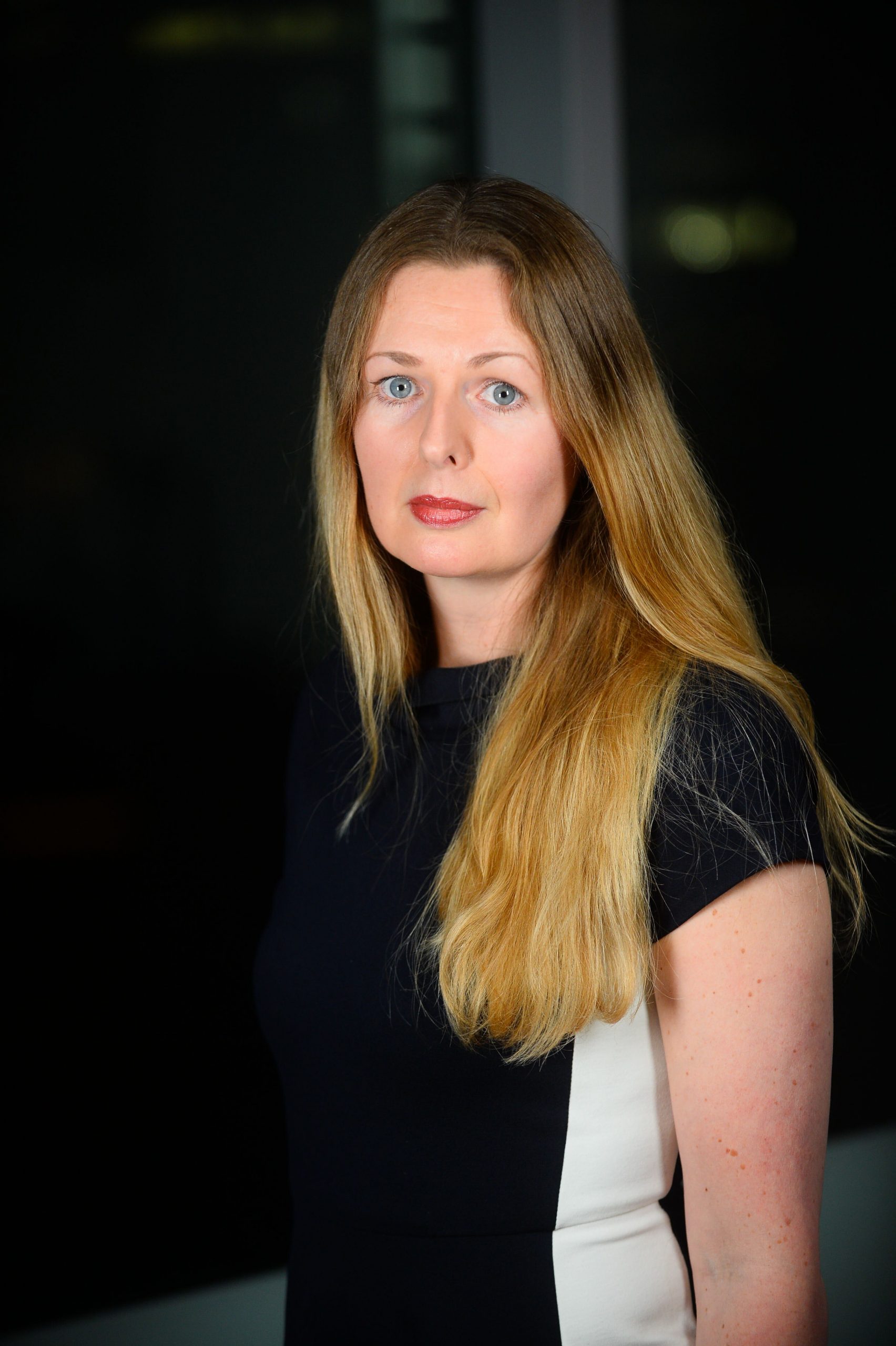 Lucinda O'Reilly, Exports & Marketing Director is an integral part of the team that has grown Ecotile Flooring in to the successful manufacturing business it is today. Over the last 20 years she has successfully employed her skills in sales and marketing to ensure Ecotile Flooring is recognised as the market leading manufacturer of PVC interlocking floor tiles. Lucinda's love of travel means the Ecotile brand is dominant all over Europe, North America, the Middle East, Asia and India.
To ensure compliance with export regulations Lucinda has gained accreditations from the Chamber of Commerce in Incoterms & Export Licence Controls and Export Procedures & Documentation and has completed the Institute of Export course on Incoterms 2020. She is a member of the Institute of Export, was a finalist in the Natwest Open to Export competition in 2018 and was instrumental in Ecotile Flooring winning a Queen's Enterprise for International Trade in 2017. Lucinda has recently been interviewed by BBC News and Channel 4 News for her insights on Brexit and is an Export Champion for the Department for International Trade.