New! Speckled Decorative Ecotile with Grey Background
As part of our commitment to being at the forefront of innovative new design and product ideas we have spent part of 2015 conducting customer surveys and responding to your feedback.
One of the things that really came out of these sessions was a desire for some specific types of new products and so our team in the Research and Development lab have been hard at work making them happen.
Last week we wrote about our new reinforced 7mm Ecotile that has been developed specifically for people with garages who wanted a lighter floor tile without the worry of 'vulcanisation' or staining from car or motorbike tyres. The feedback so far has been extremely positive.
Today we wanted to talk a little bit more about our brand new speckled decorative tile with a grey background.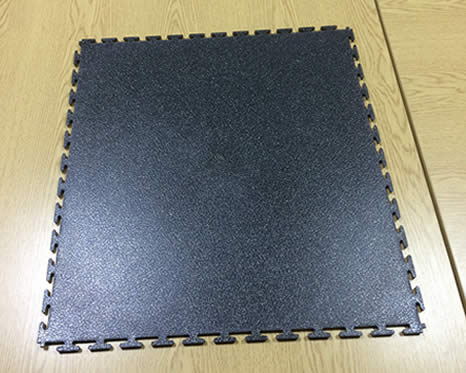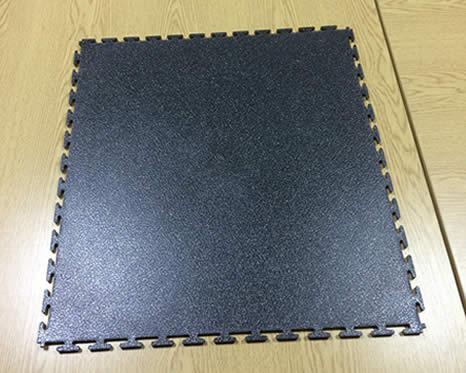 Lots of our industrial flooring clients have told us that they really like our speckled decorative tiles as they do a great job at hiding marks and scuffs that can occur in high-traffic busy areas.
The problem for many was that these tiles came in black only and so in small and poorly lit spaces they could make the area feel a bit too dark.
Now you might think that altering a colour is no big deal and just a case of adding some dye to the mix, but this is far from the case.
Because of our commitment to producing all of our Ecotile floor tiles in the most sustainable and environmentally friendly manner, being able to produce different variants of colour is not as easy as it seems.
We use a mixture of recycled and new PVC pellets, along with recycled old Ecotile tiles, and once these are mixed down adding colour can be problematic.
Fortunately we have a busy R&D Team here at our ISO9001 Certified production plant in Luton, Bedfordshire and they have come up with a solution that really works well.
The Solution
We have developed brand new technology that allows us to produce the same tiles in a light grey finish. These tiles give off a bright and attractive silvery effect that look really crisp and contemporary whilst still doing a great job of hiding all of those tiny accidents.
Feedback so far has been extremely positive and we have recently installed these new speckled decorative tiles for one our well-known industrial flooring clients; you can see them in action at the new canteen at Walkers Crisps. As far as we know Gary Linaker is not hiding under any of them!
It's one of the many benefits of choosing to work with a supplier that actually manufactures the products they sell that we can continue to respond to feedback and develop new and exciting solutions to many of the industrial flooring problems we encounter.
Watch this space for more new and exciting developments in 2016!