Making innovative new products in response to our customers feedback
At Ecotile we take our commitment to new product innovation seriously. We have an active Research and Development lab at our ISO9001 Certified production plant in Luton, Bedfordshire and constantly look to break new ground in the industrial, commercial and garage flooring sectors.
We have developed two brand new products this year alone, which we are highlighting on this page.
Both of these came in response to our customer surveys. It's the great advantage of being a manufacturer; our ability to respond to feedback and suggestions with great new solutions that no-one else has thought of.
Check out the very latest from Ecotile's R&D Team here!
New! The Reinforced 7mm Ecotile
People kept asking us if they could put a light coloured tile on their garage floor, but we always had to advise against it. Not anymore!
What was the problem?
---
When a light-coloured garage tile meets a black rubber vehicle tyre bad things happen. A chemical reaction occurs and the dark rubber migrates into the PVC, leaving an ugly greeny-brown stain that can't be removed. Lots of people would like a bright garage floor but are stuck with darker tiles because of this common problem.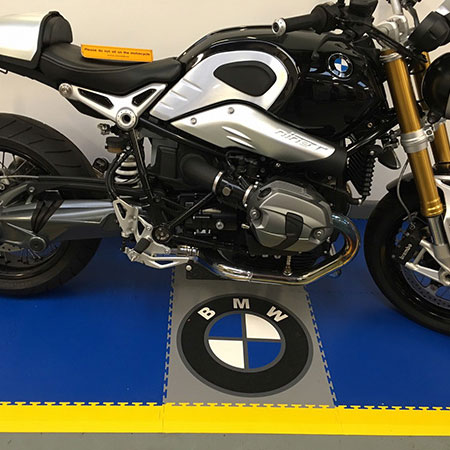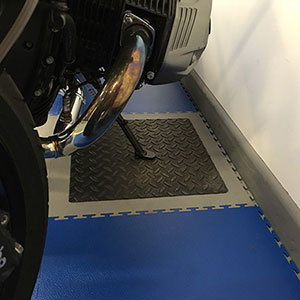 Our Solution
---
We've developed a unique 7mm thick smooth textured tile with a 3mm thick metal plate placed in the centre that sits flush with the tile. Not only do they look amazing but they are incredibly practical. Simply insert 4 of these tiles in to your Ecotile floor where tyres will rest and the rest of your floor can be any colour you choose.
These tiles are also popular with our customers who own motorbikes. They make an excellent surface to support the motorbike stand – as you can see in this photo at a BMW motorbike dealership.
New! Speckled Decorative Ecotile with Grey Background
Our hugely popular Speckled Ecotiles have always been a hit with customers, now they can choose a new lighter background colour.
The problem?
---
Our Speckled Decorative tiles have always done a great job at hiding the inevitable marks that occur in busy, high traffic areas. But in tight spaces and small poorly lit rooms they have sometimes felt a bit too dark.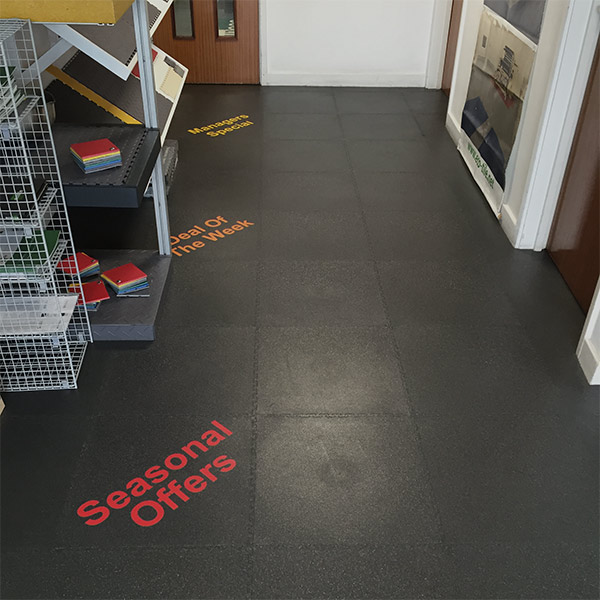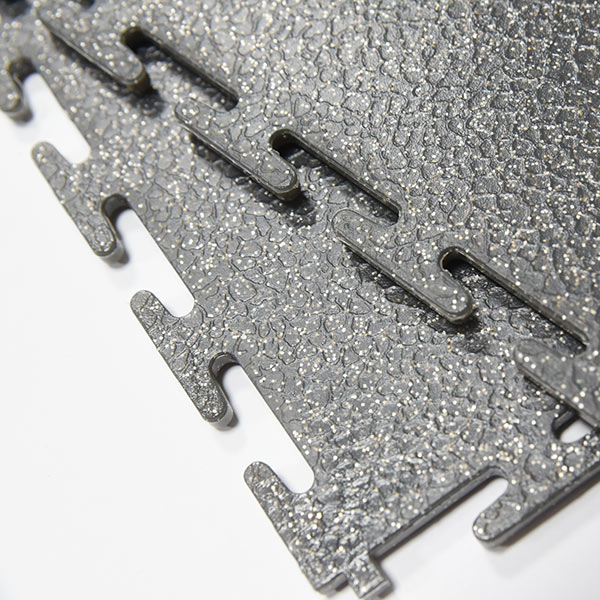 The Solution
---
We have developed brand new technology that allows us to produce the same tile in a grey finish. This gives a nice bright and attractive silvery effect that looks amazing whilst still hiding all of those tiny accidents. These new tiles are a massive hit and have already been chosen by Walkers Crisps for use in their canteen.