Slips and falls account for over 40% of all reported major injuries in the industrial workplace, they are also the most reported type of injury to members of the public. The Health & Safety Executive in the UK along with their international counterparts have undertaken extensive research into the causes and prevention. To summarise, we suggest that businesses focus on providing a suitable industrial flooring solution such as Ecotile.
Health and safety organisations have identified as the primary causes of slips and trips can be summarised as follows:
Industrial floor surface contamination through rain, spillages leaks etc.

The Combination of floor type and foot wear 

The surface roughness (profile) of the floor

Damaged & uneven floor surfaces 
These four key influences on the safety of the floor may all sound like common sense but the health and safety organisations have recognised that it is almost impossible to control or influence the criteria described in items 2 & 3 above for the following reasons:
The Combination of Floor Type and Footwear 
In most environments, the combination of a textured floor surface and a soft shoe sole and close-packed tread pattern work well with fluid contaminants in indoor environments. 
However, this design of shoe is not suitable for outdoor environments or where there are solid contaminants on the floor that may clog up the tread pattern. Also this combination of shoe sole design and compound is not effective with floor surfaces such as metal or polished concrete and smooth paint.
On the basis that most employees are required to work inside and out, traverse stairs or different floor surface types there is no one size fits all shoe design that will provide a solution to all environments.
The Surface Roughness (Profile) Of The Floor
The rougher the profile of the floor, the better the anti-slip properties of the floor will be. However, to achieve a surface roughness that will provide what could be defined as a good anti-slip surface in all environments (wet, oily etc.) the profile of the surface will be almost impossible to clean. Therefore, in 99% of applications a very rough/anti-slip surface is impractical, especially when you take into account that cleaning has been identified as the most important factor in preventing accidents.
Furthermore, the surface roughness of a floor surface can only be measured at a specific point in time. The rougher the surface the quicker the profile of the floor will reduce through wear and abrasion so coarse anti-slip profiles soon become polished smooth edges.
How do you Prevent Slips & Falls with Industrial Floors?
There isn't an all purpose solution to footwear and a rough floor surface profile is impractical and difficult to maintain. This leaves only two options open to the property owner or operator. 
In the event that an accident results in a court hearing or compensation, the legal profession will focus almost all their attention on these two factors. The first is damaged floors. If the accident was the result of damage that had not been repaired or rectified then there is no defence. It goes without saying that the operator of the properties has a responsibility to ensure that any damage is identified, isolated and repaired before it can become a hazard.
The second "controllable" factor in the prevention of slips and falls is the effective prevention of floor surface contamination through rain, spillages leaks etc. This is not rocket science, the HSE guidelines are very clear;
Stop floors becoming contaminated 
Use entrance matting. 

Fix leaks from machinery or buildings. 

Make sure plant and equipment are maintained. 

Design tasks to minimise spillages. 

Plan pedestrian and vehicle routes to avoid contaminated areas.
Use the right cleaning methods 
Make sure that your cleaning method is effective for the type of floor you have.

Don't introduce more slip or trip risks while cleaning is being done. 

Leave smooth floors dry after cleaning or exclude pedestrians until the floor is dry. 

Remove spillages promptly. 

Have effective arrangements for both routine cleaning and dealing with spills. 

Use the appropriate detergent mixed at the correct concentration. 
Consider the flooring and work environment 
Check for loose, damaged and worn flooring and replace as needed. 

Floors likely to get wet or have spillages on them should be of a type that does not become unduly slippery. 

Make sure lighting is sufficient and that slopes or steps are clearly visible. 

Keep walkways and work areas clear of obstructions.
(Credit: Health & Safety Executive: Preventing Slips & Trips at Work: A brief guide)
How can Ecotile industrial flooring Help?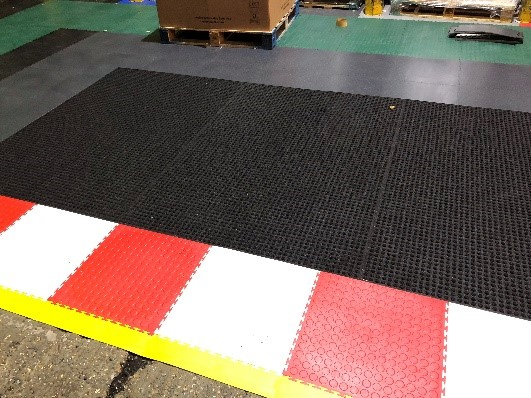 We have over 30 years' experience in helping companies create the safest possible environment that will minimise the risk of slips and falls. The recommendations that follow will help create a safer workplace and demonstrate clear compliance with the HSE recommendations as detailed above:
Stop floors becoming contaminated 
Entrance matting is essential BUT not just at the front door! How does most of the water and contaminants get onto your floor? In factories and warehouses, it's usually via the loading bay and it will be lorries and fork trucks that are bringing in most of the water. In shopping centres and public buildings it's usually the entrance, with the water being transported via shoes, wheels of buggies, trolleys etc. We have looked to source several matting options and we have committed ourselves purely to one type of entrance matting, the WaterHog™ entrance mat. It is a heavy-duty, super absorbent mat that you can drive lorries, trucks etc. over. In our experience, this mat has proven to be by far and away the most effective matting for significantly reducing the amount of water, dirt and contamination finding its way into your premises. Full downloadble info sheet can be found at https://www.ecotileflooring.com/support/certificates-and-downloads/ or by contacting Ecotile Flooring 

Simple common sense tells us all that containment is better than cure, we therefore have prepared our own guide on how to look after your floor including best practices for spills and oil leaks. You can contact us at

[email protected]

if you'd like to read this guide.

The HSE emphasise the need to have dedicated pedestrian and vehicle routes that avoid contaminated areas. By using a combination of different surface colours, surface textures including our raised disk profile to create rumble strips and integrating floor safety signs to identify hazards can make a huge difference to the safety, management and maintenance of your flooring.

Cleaning, will it exacerbate the issue rather than solve it? More often than not we see customers utilising cleaning methods that are more 18th century than the 21st. Dirty mops, dirty buckets, splashing copious amounts of water with either no cleaning chemical or too much cleaning chemical will invariably create more of a slip hazard. Also the number of employee hours involved in cleaning is a complete waste. Investment in a modern and efficient rotary scrubber dryer will pay dividends in weeks rather than months as well as improve safety by providing a clean and almost dry floor the minute the cleaning has taken place.

Finally, damaged and worn flooring is a major issue but we all understand that making good or repairing the floor is not always a simple task especially when you are running a busy operation. The disruption, dust etc. that can be caused when needing to repair the floor can have huge implications on other applications on site. This is why Ecotile has proven such a popular industrial flooring solution. The tiles can be used to cover and make safe loose, worn or damaged floors (rather than having to lift and replace the old floor). We offer a free site survey and would be happy to attend site and advise you on how best to create a safe and practical working floor whatever your requirements. 
For further information or advice please contact us.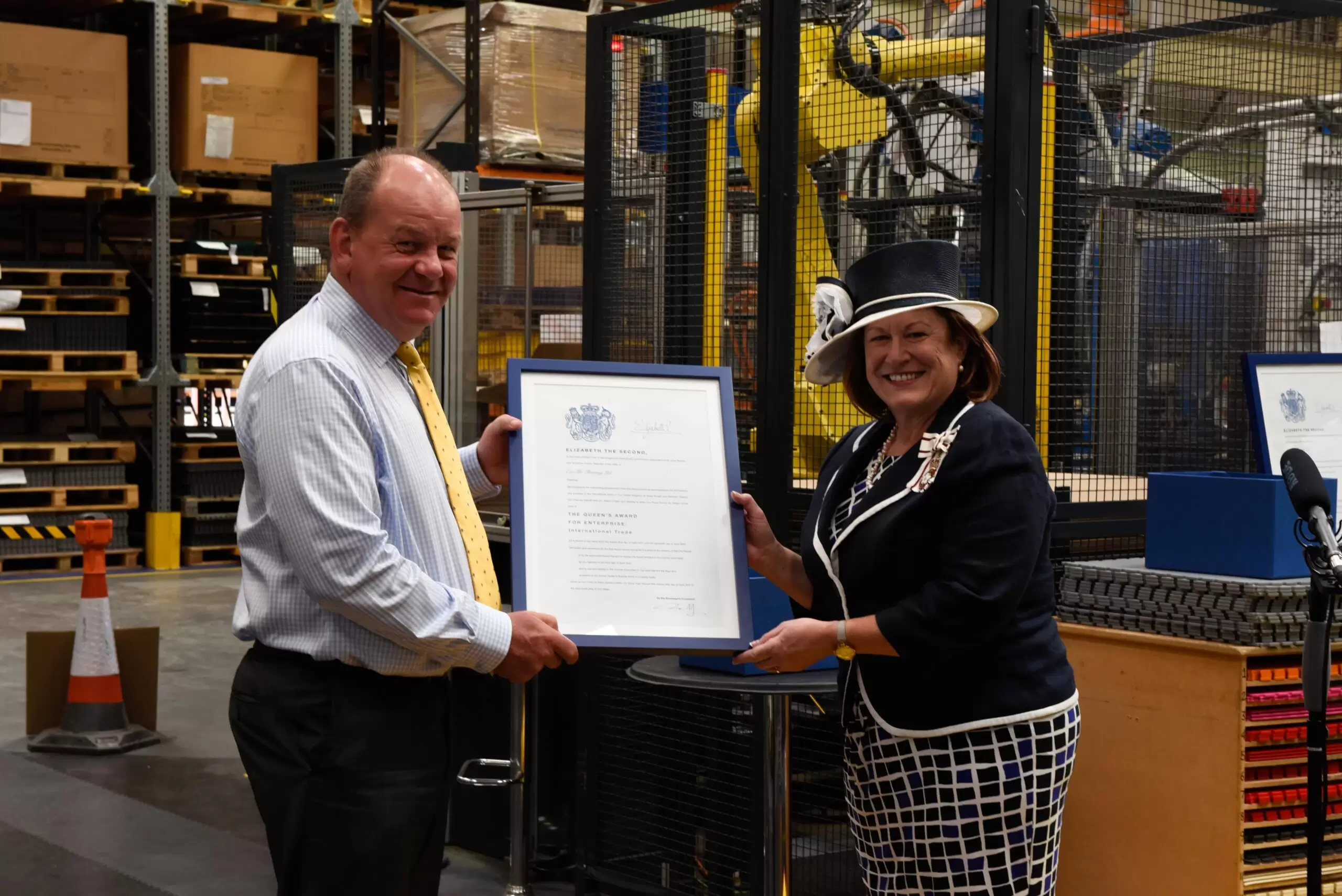 CEO and founder James Gedye has established Ecotile as the leading provider of interlocking floor tiles to the UK and around the world. Founded in 1996 from his bedroom turned office, James has built Ecotile into a multi-million-pound business, with sustainability still at the heart of his vision.
Based in Luton, Bedfordshire, Ecotile remains a privately owned UK manufacturing company, precision engineering all products in a purpose-built ISO accredited factory.
Leading the company to 2 prestigious Queens Awards in 2017 for Enterprise for Innovation and International Trade, these accolades underline James' desire to create the highest quality products and fly the flag for British manufacturing. Working directly with leading businesses for over 25 years, James' Ecotile brand has become synonymous with trust.
Used by 1000s of leading businesses, trusted by the MoD and specified by contractors, Ecotile floor tiles can be found across the world.
Connect or follow James on LinkedIn…