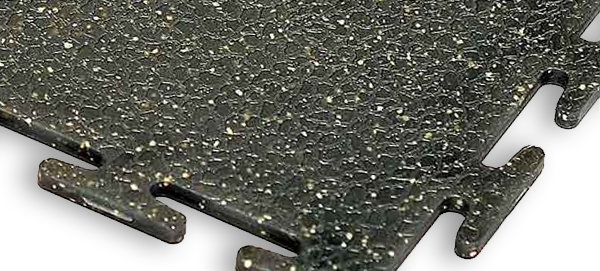 Introducing The New Ecotile Decorative Floor Tile Design
We recently launched our new decorative floor tiles on our shopping cart website. It's an exciting new addition to the Ecotile range and appeals to those who want something slightly more detailed than our regular floor tiles.
The speckled decorative floor surface is available in the 5mm and 7mm versions of Ecotile. It is currently available in the smooth textured surface. Thanks to the speckled design, the tiles may be more favoured in domestic environments. We also feel like they'd be a nice addition in an office setting.
We have a few photos of the decorative floor product, and even a video that shows off the new decorative floor tile being installed in an office space. Take a look and let us know if you have any questions. You can also browse our product range on our online shop, or give us a call for more information.
Lucinda O'Reilly, Exports & Marketing Director is an integral part of the team that has grown Ecotile Flooring in to the successful manufacturing business it is today. Over the last 20 years she has successfully employed her skills in sales and marketing to ensure Ecotile Flooring is recognised as the market leading manufacturer of PVC interlocking floor tiles. Lucinda's love of travel means the Ecotile brand is dominant all over Europe, North America, the Middle East, Asia and India.
To ensure compliance with export regulations Lucinda has gained accreditations from the Chamber of Commerce in Incoterms & Export Licence Controls and Export Procedures & Documentation and has completed the Institute of Export course on Incoterms 2020. She is a member of the Institute of Export, was a finalist in the Natwest Open to Export competition in 2018 and was instrumental in Ecotile Flooring winning a Queen's Enterprise for International Trade in 2017. Lucinda has recently been interviewed by BBC News and Channel 4 News for her insights on Brexit and is an Export Champion for the Department for International Trade.