New! Check out the new reinforced 7mm Ecotile for vehicles!
Bright and light coloured floor tiles have always been a problem where tyres are concerned. But not anymore!

Our industrial floor tiles have always been highly popular with people looking for a tough reliable solution for their garages. But one of the drawbacks has always been a chemical reaction that takes place when you leave rubber car or motorbike tyres on a light coloured tile. The process can often lead to discoloration and some pretty unattractive greeny-brown staining.
Up until now the solution has always been to use darker coloured tiles to hide any staining that might take place. Lots of you have wanted to use lighter colours in your garage areas and we have always had to advise you against it. It did not make us happy.
Now thanks to the 'tireless' efforts of our Research & Development Team Ecotile can now offer these fabulous new tiles that are completely unique to the market.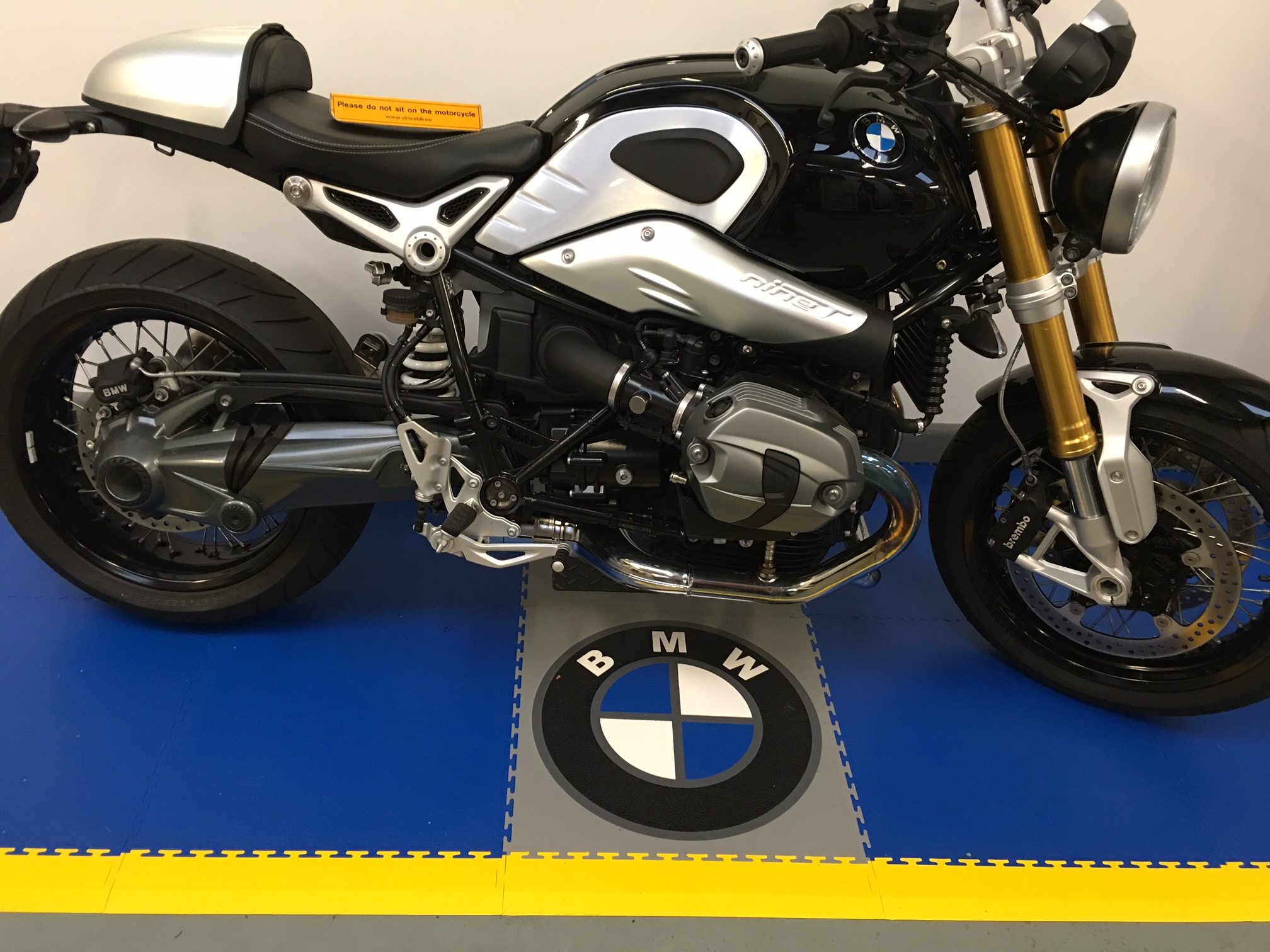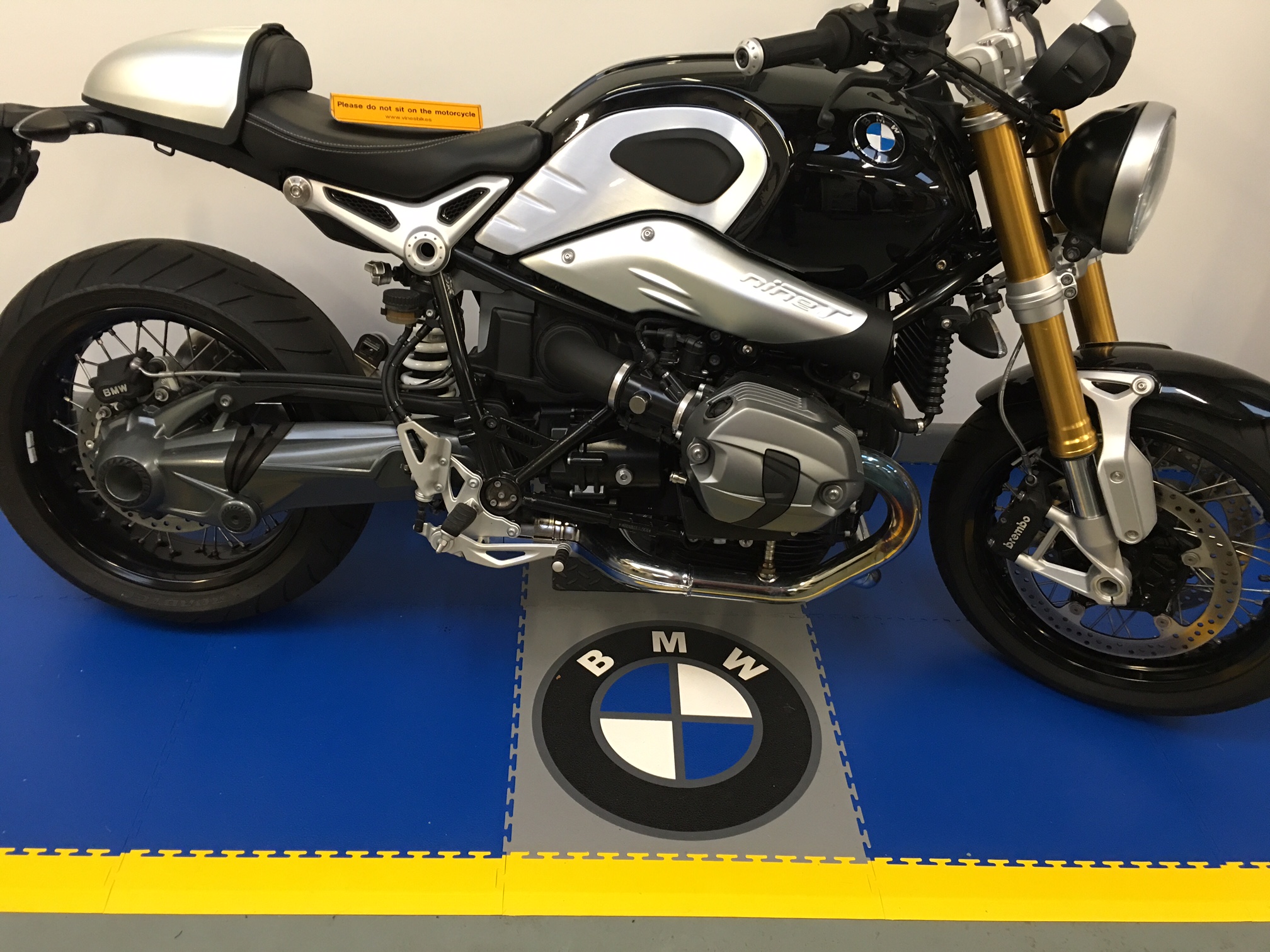 The completely new and unique 7mm thick smooth textured tile comes with a 3mm thick metal plate that sits flush, right in the centre of the tile.
This not only gives a very cool industrial effect but provides an incredibly practical solution to an old problem.
Just place four of these special tiles on your Ecotile floor and you will have a designated parking space that allows your car tyres to sit on metal plates. This prevents any staining and allows you to choose any colour floor tiles you wish.
Great for motorbikes too!
They've proven to be ever so popular with our motorbike owning customers too. Introducing a reinforced tile to your garage provides an excellent surface to support your motorbike stand.
We showed them to one of our clients who runs a BMW motorbike dealership and , as you can see from this photo, they installed them in their showroom straight away.
To find out more about these unique and highly practical new tiles, visit our e-shop where you can place an order today. Or for more information contact the Sales Team by emailing info@ecotileflooring.com
Lucinda O'Reilly, Exports & Marketing Director is an integral part of the team that has grown Ecotile Flooring in to the successful manufacturing business it is today. Over the last 20 years she has successfully employed her skills in sales and marketing to ensure Ecotile Flooring is recognised as the market leading manufacturer of PVC interlocking floor tiles. Lucinda's love of travel means the Ecotile brand is dominant all over Europe, North America, the Middle East, Asia and India.
To ensure compliance with export regulations Lucinda has gained accreditations from the Chamber of Commerce in Incoterms & Export Licence Controls and Export Procedures & Documentation and has completed the Institute of Export course on Incoterms 2020. She is a member of the Institute of Export, was a finalist in the Natwest Open to Export competition in 2018 and was instrumental in Ecotile Flooring winning a Queen's Enterprise for International Trade in 2017. Lucinda has recently been interviewed by BBC News and Channel 4 News for her insights on Brexit and is an Export Champion for the Department for International Trade.