Elimiminate floor maintenance costs with Ecotile
Choosing a new industrial flooring system can be a daunting task. Balancing the need for a high performance solution without compromising the design aesthetic is a tough enough task. Combined with managing hard-working budgets,  a buyer must discover how to reduce costs and minimize downtime yet still comply with changing health and safety regulations.
The continuous cost and downtime involved in floor maintenance is often the main reason for purchasing a new flooring solution. Floor maintenance is costly, but and a tired appearance and under-performance of an existing floor can seriously impact the business.
A new generation of interlocking PVC floor tiles designed and manufactured by market leader Ecotile can solve floor maintenance issues and the greatest of challenges. Ecotile interlocking floor tiles offer a comprehensive and sustainable solution to ongoing floor maintenance issues within industrial and commercial applications.  Ecotile PVC tiles can help you drastically reduce floor maintenance costs and requirements. Read on to find out more.
Ecotile design and produce their own comprehensive range at a state of the art UK production facility.  Our tiles are smart in terms of design and robust in terms of performance.  Ecotile's combine the most important benefits to the industry in one, easy to install, package.
James Gedye, Managing Director of Ecotile says:
"At Ecotile we recognised that many of our industrial and commercial customers were suffering with very serious legacy issues associated with their choice of flooring – and were not yet taking advantage of the latest advances in flooring technology. Furthermore, we frequently help new customers who may have only very recently installed a new flooring option, only to find that it does not comply with their insurance requirements or health and safety policies.

We continually invest in international testing, certification and approval processes. In parallel, we frequently work with customers to resolve historic issues that they have experienced with an inappropriate flooring system. We are often parachuted into projects to dramatically improve the working environment – both underfoot and in terms of acoustics – or to provide important safety features within the floor itself, such as hazard signage and the demarcation of production spaces.

High quality, accredited flooring products and technical support are vital components of any operational plan and associated infrastructure; unfortunately, important issues such as fire or slip rating certifications are often overlooked until something goes wrong. Failure to employ due diligence and good practice when selecting appropriate flooring can result in costly replacements, lengthy delays and insurance claims being refused".
Ecotile interlocking floor tiles can be installed quickly and efficiently without the need for downtime  thanks to their unique design features. The clean, loose lay of Ecotiles means that the installation process is simple and that no special preparation is required. Our floor can be fitted without the need for damp proof membranes and adhesives which significantly reduce emissions, installation time and cost. The tiles can even be fitted over concrete before it has cured.
All of Ecotile products are injection moulded using a compound that demonstrates excellent wear characteristics, chemical resistance and stable electrical properties. The tiles are very low maintenance and quickly eliminate routine floor maintenance issues.
James says:
"We often receive feedback from our customers that confirms just how easy it is to maintain an Ecotile floor. Virtually all direct and indirect costs usually incurred through routine maintenance programmes are eliminated and longer term maintenance really couldn't be easier; if you do need to replace a single tile, it can be lifted and swapped out in minutes."
Available in a range of colours, zoned flooring can be created to easily identify functional areas. Furthermore, the tiles can be produced in own-brand livery, including logo tiles for added impact.
"As a business, we are committed to world class manufacturing standards and have invested in quality to secure our position as the only interlocking flooring tile manufacturer that holds the full complement of quality accreditations and certifications including ISO9001 / 14001, CE Mark, BFI S1 Fire Rating and the R10 anti-slip rating. Furthermore, all of our tiles are REACH compliant and come with a 10 year warranty as standard."
Ecotiles are well known for their longevity and for being fully transferable. They are frequently lifted and re-laid in a new location for the ultimate in flexibility.
When the tiles eventually reach the end of their working life, they are fully recyclable. All pre- and post-installation material is recycled and Ecotile also offers a free of charge collection and recycling service for end-of-life tiles.
"At Ecotile we invest heavily in R&D and engineer our production processes to ensure that we deliver greener, cleaner solutions to our customers. Our fully-automated manufacturing facility generates zero waste and our products are 100% recyclable. As a business, we only use raw materials that are compliant with internationally recognised and adopted standards for performance, quality and impact on the environment. "
To benefit from Ecotile's industrial flooring tiles, please call 01582 788 232 or email [email protected]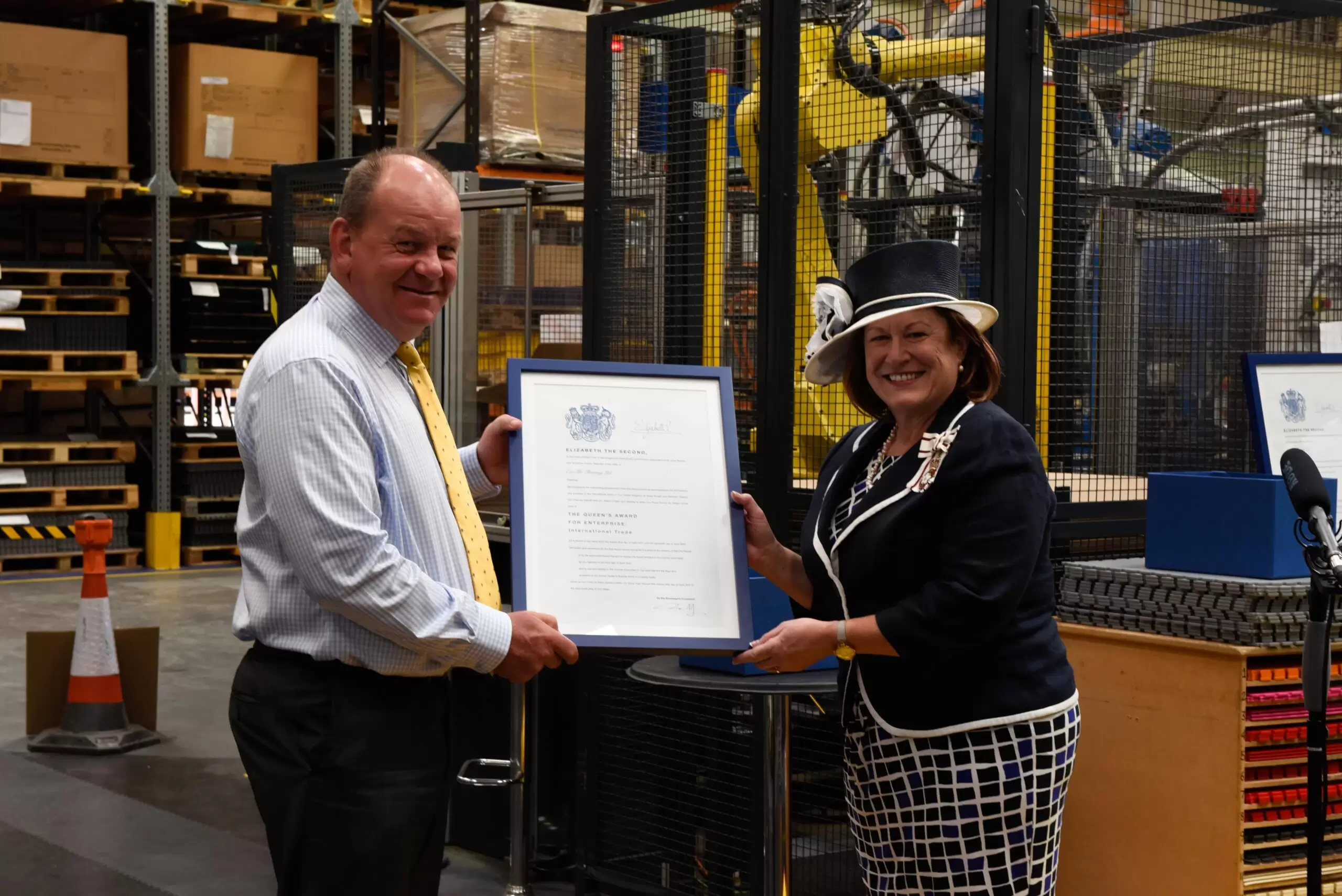 CEO and founder James Gedye has established Ecotile as the leading provider of interlocking floor tiles to the UK and around the world. Founded in 1996 from his bedroom turned office, James has built Ecotile into a multi-million-pound business, with sustainability still at the heart of his vision.
Based in Luton, Bedfordshire, Ecotile remains a privately owned UK manufacturing company, precision engineering all products in a purpose-built ISO accredited factory.
Leading the company to 2 prestigious Queens Awards in 2017 for Enterprise for Innovation and International Trade, these accolades underline James' desire to create the highest quality products and fly the flag for British manufacturing. Working directly with leading businesses for over 25 years, James' Ecotile brand has become synonymous with trust.
Used by 1000s of leading businesses, trusted by the MoD and specified by contractors, Ecotile floor tiles can be found across the world.
Connect or follow James on LinkedIn…