Ecotile keeping the Brexit debate on a firm footing during BBC News at Ten
The EU Referendum is a complicated business; almost as complicated as installing a brand new industrial floor in one of the busiest precision stampings factories in Europe, without switching the machines off.
So when BBC News at Ten visited our good friends and colleagues Brandaeur to discuss the economic implications of Brexit, it was lucky that Ecotile was on hand to ensure there were no slip ups.
Thanks to our heavy duty flooring, the BBC News crew had a solid platform from which to produce their excellent and informative interview with Brandaeur Chief Executive Rowan Crozier.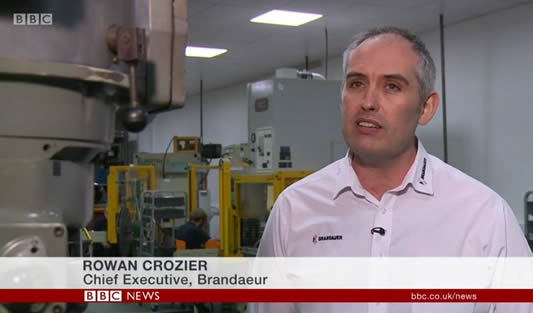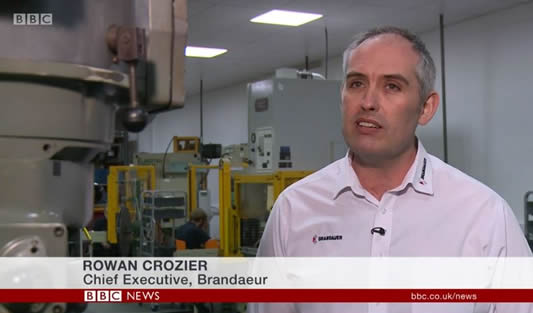 Brandaeur is one of the largest manufacturers of precision metal components in Europe and a true gem of British Manufacturing.
It was a thrill to see our interlocking floor tiles take centre stage, and we must admit they were looking every bit as good as when we first installed them.
As flooring experts we think it's always important to know where you stand on the big issues of the day, and no-one appreciates the importance of providing British Industry with excellent foundations and a level playing field as much as we do.
With the vote still some way off, we are all hoping for a swift, speedy and decisive resolution so we can all get back to the business of exporting our world class products to Europe and the World.
To find out more about the great work being carried out at Brandaeur visit their website. We've included some of the images here for you to enjoy.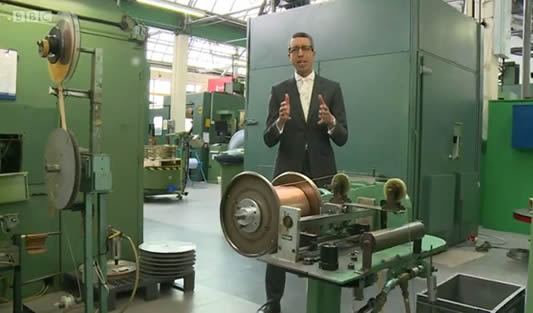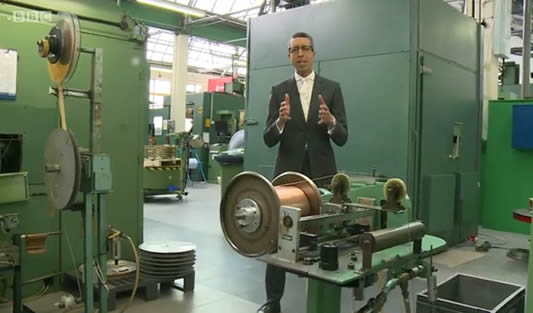 Lucinda O'Reilly, Exports & Marketing Director is an integral part of the team that has grown Ecotile Flooring in to the successful manufacturing business it is today. Over the last 20 years she has successfully employed her skills in sales and marketing to ensure Ecotile Flooring is recognised as the market leading manufacturer of PVC interlocking floor tiles. Lucinda's love of travel means the Ecotile brand is dominant all over Europe, North America, the Middle East, Asia and India.
To ensure compliance with export regulations Lucinda has gained accreditations from the Chamber of Commerce in Incoterms & Export Licence Controls and Export Procedures & Documentation and has completed the Institute of Export course on Incoterms 2020. She is a member of the Institute of Export, was a finalist in the Natwest Open to Export competition in 2018 and was instrumental in Ecotile Flooring winning a Queen's Enterprise for International Trade in 2017. Lucinda has recently been interviewed by BBC News and Channel 4 News for her insights on Brexit and is an Export Champion for the Department for International Trade.